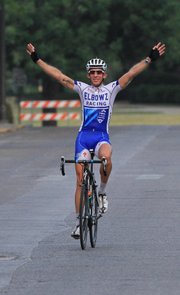 No stranger to success at the Tour of Lawrence, Sean Sullivan lost the rest of the field late Saturday evening to win the second Kansas University Campus Circuit race of his career.
The inaugural campus race champion in 2009, Sullivan had a 35-second lead with two laps to go and extended that to 1:42 before taking a stress-free cruise around Mount Oread his last time around the course.
A Boulder, Colo. resident originally from Tasmania, Australia, Sullivan rode down the center of Jayhawk Boulevard on his final lap of the professional men's race, took a glance over his shoulder and saw a street as barren as the outback. He clapped his hands twice above his head and finished the 55-mile, 14-lap race in 2 hours, 18 minutes and 59 seconds. His Elbowz Racing teammate, Lawrence resident Joe Schmalz, was the next cyclist to finish at the 2:20:05 mark.
Over the last few laps, Sullivan said it became clear he had taken advantage of the hilly course in the 100-degree heat.
"It becomes kind of a race of attrition," the two-time champion said.
Only 26 of the 62 cyclists who started the race were able to complete it. Sullivan said he conserved as much energy as possible during the first half of his ride.
"By the end of it, the last five laps, everyone's starting to fatigue," he said.
Schmalz, who won the circuit race in 2011, and Sullivan were in the same group when this year's champ made his move with three and a half laps remaining.
"I was surprised to get as big of a gap as I did on straightaways," Sullivan said, "so I started to concentrate on keeping my speed kind of steady."
The next six finishers behind Schmalz — Josh Yeaton (third), Brad Huff (fourth), Matthew Ankney (fifth), Brian Jensen (sixth), Colton Jarisch (seventh) and Chris Winn (eighth) — all crossed the finish line in a 41-second span between 2:20:11 and 2:20:52.
The pros will be back at it today, beginning at 5:30 p.m., with the downtown criterium, which will serve as the Kansas Cycling Association's state criterium championship.
"I really like those downtown races," Sullivan said, "with the crowd and the corners."
Flanigan beats out former teammate
A thin professional women's field, which only featured six cyclists, at least didn't have a disappointing finish.
Emile Flanigan barely edged Catherine Walberg in what proved to be a photo finish. After five laps and 19.7 miles, both cyclists flew down the final stretch of Jayhawk Boulevard, side by side, neither with a clear advantage or a lead of more than a few inches.
When they crossed the finish line, Flanigan said she didn't know which of them was ahead at that particular instant.
"I was hoping that I was, but it was that close that I really wasn't sure," the women's champion said. "It was one of those (finishes) where you start going as hard as you can."
Actually, the St. Louis cyclist feared she had pushed too early. It wasn't until race organizers checked a finish-line photo that Flanigan was announced as the winner. They both had an official time of 1:00:12 and Flanigan, of the Trek Bicycle Store women's team, beat out Walberg by less than four inches.
"If it was another half a foot, I don't think I would've had it," Flanigan said. "I was really happy to hear that I did."
Walberg, of Topeka, knew she had a shot to win.
"Timing on a sprint is always tricky," Walberg said, "and Emile and I used to be on the same team five or six years ago, so I know a lot about her, and I knew she could sprint."
The longer the two one-time teammates pushed alongside each other, the more Flanigan knew it would come down to the wire.
"A lot of times in a long sprint, there's a point where you can tell a person is starting to lose their engine a little," Walberg said. "She wasn't losing her engine."
Walberg has experienced more than a few flash finishes.
"When you win 'em, there's nothing more satisfying," she said. "When you lose 'em, it's devastating."
Flanigan gushed about the runner-up, calling Walberg not only a great competitor but one of the nicest cyclists around.
"Catherine's always been a mentor for me," Flanigan said. "Anytime that I'm close to her, I consider that a good day. To actually beat her in a sprint is like the highlight of my year."
The victory was the second in as many nights for Flanigan, who won the downtown street sprints on Friday. A victory today in the downtown criterium (beginning at 3 p.m.) would give her a clean sweep at the Tour of Lawrence.
"That's the hope," a cheerful Flanigan said. "Not so hilly tomorrow, I hear, so I'm hoping my legs will stay with me."
Other winners from the KU Campus Circuit
Eight amateur races preceded the professional main events. Champions were: Kevin Shaffer, Olathe, cat. 5.; Dan Schaeffer, Leawood, cat. 4/5; Edwared Kim, Columbia, Mo., cat. 4; Mike McNeal, Broken Arrow, Okla., cat. 3; Leah Kleager, Omaha, Neb., cat. 3/4 women; Janne Hamalainen, Tulsa, Okla., master 40-plus; Charlie Snell, Kansas City, Mo., junior 10-13; and Elliot Childs, Saint Marys, junior 14-18.
Copyright 2018 The Lawrence Journal-World. All rights reserved. This material may not be published, broadcast, rewritten or redistributed. We strive to uphold our values for every story published.