Photo Gallery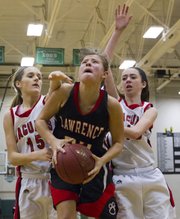 LHS girls vs. Blue Valley West
There have to be more enjoyable ways to learn a lesson.
Lawrence High's girls basketball team found out the hard way Friday night at the Firebird Winter Classic that double-digit fourth-quarter leads aren't invincible. Blue Valley West illustrated that fact with a 53-50 overtime victory in the consolation semifinals.
The Lions were in great position to beat the Jaguars, with a 13-point lead midway through the fourth quarter. But turnovers and missed shots caught up with LHS in the final minutes of regulation, and that trend continued in the extra four-minute period.
Blue Valley West (2-10) did just enough in overtime to complete the comeback, getting a three-point play inside from junior forward Mariah Coleman and four more points from senior guard Erika Lake, who finished with a game-high 24.
In the meantime, Lawrence (4-7) went 2-for-8 at the foul line and 1-for-7 from the floor and turned the ball over four times in OT.
LHS coach Nick Wood said overtime, when sophomore Kionna Coleman scored a basket and the Lions received one free throw apiece from juniors Monica Howard and Krista Costa, was a case of missed opportunities.
"We got shots right at the basket," Wood said, "but they didn't go in."
Neither Lawrence players or coaches could believe it as good look after good look failed to drop.
"You've got to find a way to make those, take advantages of those situations," Wood said.
Problems really started mounting for LHS in the fourth quarter, even though it led 35-24 after the third. Kionna Coleman scored six points in the first few minutes, and Lawrence sub Mutiyat Hameed hit a turn-around shot in the paint to get the team off to a solid start. However, the Lions made four of their nine shot attempts and turned the ball over nine times in the fourth.
After the Jaguars' Mariah Coleman grabbed an offensive board, scored a put-back, drew a foul and hit a free throw with 13 seconds left to tie the game, Lawrence had a chance to win in regulation, but turned the ball over with just two seconds to go.
The weight of the loss was brutal for the young LHS team to handle after watching a big lead slip away.
"Hopefully it's a lesson that we've got to play for 32 minutes — or an entire game," Wood said, adding BVW kept competing.
It was hard for the Lions to comprehend how things got out of hand so quickly.
"All of the sudden we're not ready to take shots, we're not getting back on defense, we're fouling them so they can shoot free throws with no time coming off the clock," Wood said. "We didn't value offensive possessions and defensive possessions."
Kionna Coleman led Lawrence with 13 points and pulled down nine rebounds. Wright finished with 12 points, while Howard and Costa both contributed nine. Howard led the Lions with 10 rebounds, and Costa snagged eight boards off the bench.
At 10:30 this morning, Lawrence will take on Kansas City, Kan., Sumner Academy in the tournament's seventh-place game.
Copyright 2018 The Lawrence Journal-World. All rights reserved. This material may not be published, broadcast, rewritten or redistributed. We strive to uphold our values for every story published.