The size, shape, scope, cost and even the ethics of a draft report on recommendations for changes to the city's trash and recycling system were called into question by Lawrence residents Thursday evening at City Hall.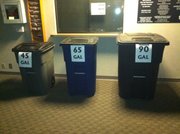 Some even got choked up about the topic.
"There are few things that are as personal as trash," said Mayor Aron Cromwell, who chairs the city's Solid Waste Task Force that formed in April.
Despite passionate pleas to modify — or even scrap — the task force's draft, Cromwell said he doesn't expect huge changes before a proposal is voted on by the task force.
A key goal set forth by the task force is to increase automation for residential trash collection by providing roll-out trash carts for residential services and increasing automation of trucks as current fleet units are replaced. The task force also is looking at mandatory recycling collections.
Services such as yard-waste pickup and large-item collection would continue.
Another meeting — the 19th in total for the task force — is set for 6 p.m. Jan 26. City officials said the location would be announced today.
"We'll wrap it up next week," Cromwell said. If the task force votes in favor of a proposal, it will be passed along to the City Commission as a recommendation.
Among the provisions decried by some of the two dozen people who addressed the task force Thursday was mandatory usage of standardized carts for both trash and recycling for single-family homes, with no opt-out clause. The additional cost for the mandatory recycling service isn't yet clear, but Cromwell has previously said the total cost should be around $19 a month, up about $4 from the current city rate that now just includes trash pickup.
Numerous residents questioned a one-size-fits-all policy that doesn't account for residents currently satisfied with other recycling options in the city, such as private pickup and drop-off locations.
The trash carts, which could possibly reduce injuries and staffing needs through the use of a hydraulic lift, were on display in 45-, 65-, and 90-gallon sizes at City Hall.
"Huge, huger and humongous," said Lawrence resident Bill Mitchell in his comments to the task force. Mitchell, and several others commenting Thursday, called for smaller carts, and potentially lower rates, for those who create less trash.
Cromwell said it's been a challenge balancing the variety of needs expressed by the community, but the "goal is to create a system that works for Lawrence."
Among the other recommendations in the report:
• The possibility that the city could switch to fully-automated trucks, which would reduce the number of crew members needed on a trash truck.
• The city solicited proposals from private companies to run a new citywide curbside recycling program. The report recommends that a new curbside recycling program be created but recognizes it must be fiscally feasible. The report recommends any curbside service be offered on a weekly basis.
• Sets a goal of a 50 percent recycling rate for the community by 2020. The city's current recycling rate isn't known. The last rate compiled by the city showed it was 34 percent, although that calculation is several years old and the city auditor has questioned the method used for figuring recycling totals.
Residents of apartment complexes largely will have to wait to see what changes may be in store for their trash service. The report does not provide many recommendations for multifamily or commercial trash service, but said changes to the system are possible in the future.
The full draft report can be viewed on the city's website.
Copyright 2018 The Lawrence Journal-World. All rights reserved. This material may not be published, broadcast, rewritten or redistributed. We strive to uphold our values for every story published.