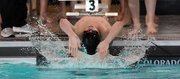 Lawrence High's 200 freestyle relay team set a school record that had stood for 21 years, Zach Andregg — who swam on that record-setting relay team — lowered his own individual record in the 200 individual medley, and LHS placed second at a swimming a diving meet Thursday at Knox Natatorium.
The 200 free relay team of Adam Edmonds, Reid Hildenbrand, Dylan Orth and Andregg set the school record in 1:31.83.
The old record by Mark Hoover, Mike Byrd, David Eagan and Julio Suarez was set in 1991.
And Andregg bettered his 200 IM time to 1:59.75.
LHS placed second with 561 points. Washburn Rural won with 597.
Andregg won the 200 IM and 100 free.
Copyright 2018 The Lawrence Journal-World. All rights reserved. This material may not be published, broadcast, rewritten or redistributed. We strive to uphold our values for every story published.