Olathe — Olathe Northwest played a nasty trick on Free State High's boys basketball team Friday night.
The Ravens, ranked No. 2 in Class 6A, didn't put away the visiting Firebirds early on. Trailing by seven at the half, FSHS thought it might have a chance to stick around and give ONW a game.
Photo Gallery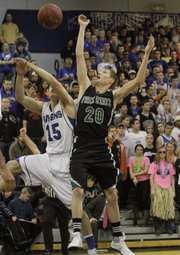 FSHS boys vs. Olathe NW
Northwest's interest in playing a tight game was severely lacking, though, and the Ravens rode a dominant third quarter to a 62-38 victory.
Down 25-18 at halftime, Free State (2-7) made just one basket — a layup by junior Kyle McFarland — in the third quarter, while the Ravens' top three players set the table for the Firebirds' seventh straight loss.
University of Kentucky commit Willie Cauley scored eight of his 12 points in the third for ONW (8-0). He got plenty of assistance, too, from Nebraska-bound Shavon Shields, who netted five of his game-high 23 points in the third, and sharp-shooting Trey Bales, who drilled both of his third-quarter three-point attempts en route to a 15-point night.
FSHS coach Chuck Law bemoaned his team's shooting — 1-for-8 in the third, 15-for-45 in the game — after the 24-point loss.
"If you're gonna beat a team like that, with those kinds of players and those kinds of athletes, you've gotta make shots," Law said.
Part of what helped Free State hang around in the first half was some early foul trouble for ONW star seniors Shields and Cauley. Just more than three minutes into the game, Shields was forced to the bench after picking up his second foul. Less than a minute later, Cauley had picked up two straight on back-to-back plays, the second on a pump fake by FSHS senior forward Gabe Patterson.
Northwest held a slim, 7-4 advantage when its top two players were banished to the bench in order to avoid picking up their third personal fouls. Patterson, who made a pair of shots in the first, said that was the point Free State needed to pounce.
"We had momentum. I was knocking down shots and I thought we were clicking," Patterson said, after finishing with six points and four rebounds.
Instead, Northwest actually extended its lead to 13-8 entering the second quarter.
The Firebirds got within three points twice early in the second — first on a short jump shot by senior Tyler Self, then on a layup by McFarland — but Shields took his foul trouble-related anger out on Free State, scoring 10 of the Ravens' 12 second-quarter points.
Law had few complaints with his team's first-half effort.
"I thought we played a really good first half, other than perhaps giving them a little bit too much respect around the basket," he said, noting the Firebirds too often didn't take the ball strong to the basket against the athletic and long ONW defense.
The second half was another story. The Ravens consistently got either layups, shots in the paint or wide-open looks. Northwest was red-hot in the second half, making 14 shots on just 17 attempts.
"It's demoralizing when (the Ravens) can throw it in there and (they) can hammer it or (they) can shoot it from four or five feet," Law said.
Patterson, who played his first major minutes since suffering a hip injury in December, said the good feelings his team had in the first half quickly disappeared down the stretch as the Ravens imposed their will.
"That's when we fell apart in the second half," he said, "when they started knocking down shots."
Law said FSHS isn't getting out in transition like he and the players have talked about, and playing a half-court game against a great team with a 6-10 post was "not a good recipe." The coach said the Firebirds need a more efficient offense.
"That's totally on me," Law said. "I've got to find a way to get us some easier baskets."
Free State is idle until Thursday, when it begins play in the three-day McPherson Invitational.
Copyright 2018 The Lawrence Journal-World. All rights reserved. This material may not be published, broadcast, rewritten or redistributed. We strive to uphold our values for every story published.