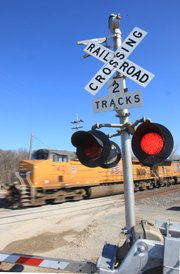 Train accidents, by the numbers
Nonfatal accidents in Kansas in 2011: 232
• Fatal: 19
• Nonfatal accidents in the United States in 2011: 10,038
• Fatal: 644
Kansas counties with highest number of fatality train accidents since 1992:
• Johnson: 19
• Sedgwick: 16
• Shawnee: 16
• Butler: 15
• Sumner: 10
• Douglas: 9
Source: Federal Railroad Adminstration.
On a clear Friday afternoon last February, Kyle Snyder, 22, of Lecompton, hit the brakes on his pickup truck as he approached the railroad tracks on East 950 Road northwest of Lawrence.
Sliding on the snow-packed gravel road, Snyder's truck couldn't stop in time, and he was killed after colliding with a BNSF train chugging away at 50 mph. The crossing where the fatality occurred is identified by crossbuck signs but does not have flashing lights or gates.
Snyder's death was the second train-related fatality in Douglas County in the past decade. In 2006 Jeannie NewMoon, 53, was struck and killed by a train while walking on the North Second Street overpass in North Lawrence.
Snyder would be one of 19 people killed by trains in Kansas through the first 11 months of 2011, according to statistics from the Federal Railroad Administration.
While the rest of the country has seen dramatic drops in train fatalities during the past 20 years — from 1,170 in 1992 to 644 in 2011 — Kansas's numbers remain steady, about 16 per year. Douglas County has nine fatalities over than time, and Johnson County leads the state with 19.
There doesn't seem to be a clear reason why the Kansas numbers haven't dropped.
"Your guess is as good as mine," said Darlene Osterhaus, director of the train-safety organization Kansas Operation Lifesaver. Since joining the organization in 2006, Osterhaus has helped coordinate hundreds of workshops across the state to increase awareness of the dangers of trains.
The two types of incidents that are not related to a train malfunction or derailment are categorized as crossing collisions, such as Snyder's crash, and trespass incidents, when someone is struck by a train as he or she walks on the tracks, such as in NewMoon's case.
In addition to education and trainings, adding gates and lights to intersections can help reduce incidents and fatalities, Osterhaus said, but that's not always enough.
Some drivers will drive around gates, or, if road conditions are hazardous, might slide through intersections. Nearly 50 percent of collisions occur at intersections equipped with gates or other warning devices, she said. In Snyder's collision, where he tried to stop but slid, gates or lights may not have made a difference.
In Kansas, about 65 percent of the roughly 5,200 train crossings are equipped only with stop signs or "crossbucks," the white X sign with "railroad crossing" written on them, said Mitch Sothers, engineer with the Kansas Department of Transportation. Sothers helps install other warning devices, paid for with federal money. But the funding is limited, and Sothers said KDOT is only able to add warning devices to about 50 train crossings per year.
Marmie Edwards, spokeswoman for the national branch of Operation Lifesaver, said the percentage of train crossings with warning devices varies by state, from 20 percent to 50 percent. But it wouldn't be economically feasible to place devices at all crossings nationwide, she said.
When it comes to those killed when walking on train tracks, it's not clear how many are suicides, Edwards said, as those statistics historically were not kept. In Kansas, trespass deaths account for about a quarter of train-related fatalities.
In the nonsuicide cases, Edwards said a lack of safety awareness comes from a public perception of slow moving trains blowing their whistles and flowing through small towns at 30 or 40 mph. But with time, trains have sped up, and in a state like Kansas, they move through frequently, she said.
"The public hasn't caught up with that," she said. "There's still a ways to go."
Copyright 2018 The Lawrence Journal-World. All rights reserved. This material may not be published, broadcast, rewritten or redistributed. We strive to uphold our values for every story published.