Olathe — There isn't much mystery around what has cost Free State High's boys basketball team on the road this week.
The Firebirds tried another furious fourth-quarter comeback at Olathe South on Friday night, but again fell short (as they did three days earlier at Leavenworth), this time losing 49-44.
The problem, FSHS coach Chuck Law said, is obvious.
"It's not like we haven't talked about trying to find ways to get off to a better start," the coach said after Free State went 2-for-7 with four turnovers in the first quarter, leading to a 17-5 hole.
It was the second game in a row that the Firebirds (5-11) had a "sleepwalk" stretch against a top-10 team. So even an 18-9 Free State advantage in the fourth quarter left the visitors five points behind No. 9 O-South (12-4).
Photo Gallery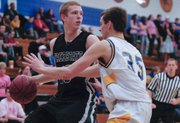 Free State boys vs. Olathe South
"We are so listless and so unemotional at the beginning of games and you can't do that against this team," Law said. "These guys are good."
The Falcons held a 40-26 lead after three quarters, but Free State mounted a huge counter-attack in the final four minutes. Senior Brett Frantz (11 points) hit his third three-pointer of the night with three and a half minutes left to cut the hole to seven points.
With 3:02 to play, senior forward Gabe Patterson (13 points, 10 rebounds) hit a free throw that cut the O-South lead to 45-39. Less than 30 seconds later, he made a short turn-around jumper off the glass to get Free State within four.
A little more than 30 seconds after that, senior point guard Shawn Knighton drove to the paint and dished to Patterson for another bucket, making it a 46-43 O-South advantage.
Falcons miscues, meanwhile, helped ignite Free State's late push. O-South was 4-for-11 from the foul line in the fourth quarter before senior Luke Hougland helped salvage the game by going 3-for-4 at the line in the final 29 seconds.
"They let us back in," Law said. "They turned the ball over, they got careless."
Some of that, Law noted, had to do with sophomore Falcons guard Noah Knight being out most of the game after injuring his right shoulder on a drive less than 30 seconds into the first quarter.
That was the scenario FSHS was dealt, though, and the Firebirds got within two points (46-44) on a Patterson free throw with 1:14 left in the fourth. Still, they couldn't tie the game or take the lead in the final minute, despite some good looks.
Law said it was a "great effort" by his team just to cut O-South's lead to two.
"They did everything they were asked to do to get us back in the game, but just couldn't get that last key basket to fall," he said.
Senior guard Cameron Dabney, who scored 10 points (all in the second half), said the Firebirds understand what their problem has been in their past two losses.
"I think we just start off really slow," Dabney said. "We'll pass the ball and not really move around at first and then we'll get down."
He said they can't afford to do that in the future, and a different approach could be the difference.
"I think we need to get a little more pumped up before the game," Dabney said, noting FSHS has to come out motivated.
Law surely won't care what the Firebirds do to get off to better starts.
"I need some guys to come ready to play from the opening tip and if we can do that we can be good. There's no question about that," he said. "We played with two really good teams this week, and we slugged away 'til the end, but the hole in both cases was too big."
At 7 p.m. Tuesday, Free State plays host to Shawnee Mission Northwest.
Copyright 2018 The Lawrence Journal-World. All rights reserved. This material may not be published, broadcast, rewritten or redistributed. We strive to uphold our values for every story published.