Olathe — All season long, Free State High's girls basketball team had talked about Friday night's game at Olathe South.
The Firebirds had never beaten the Falcons in program history. "This is the year," they thought.
Photo Gallery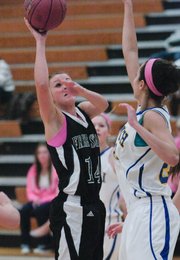 Free State girls vs. Olathe South
And it nearly was. However, O-South senior guard Megan Balcom drilled a three-pointer at the buzzer to keep the Falcons undefeated — both this season and all-time versus Free State — with a 52-50 victory.
FSHS junior guard Kennedy Kirkpatrick had hit her second of two free throws with 16 seconds left to break a 49-all tie and put the Firebirds (12-4) ahead by a point. The Falcons (15-0) brought the ball down the floor and couldn't find a driving lane or open look against Free State's half-court defense, so O-South coach Steve Ingram was forced to call a timeout with two seconds remaining.
Falcons sophomore Bailey Rinehart made the in-bounds pass from the right sideline to Balcom at the top of the key. Even though she had missed all four of her three-point tries up to that point and was 2-for-9 from the floor in the first 31:58 of the game, Balcom stroked the straight-away three-pointer from about 24 feet to snap the Firebirds' seven-game winning streak.
Said Free State coach Bryan Duncan: "When you can force a shot like that, you'll take your chances."
Just thinking about the game-winning shot minutes later was like a blow to the gut for Firebirds junior Chelsea Casady.
"Ugh," she muttered, when it was brought up.
The worst part was Casady had a great look at the shot, which she can now see playing over again in her head.
"I was going out to guard her, and the minute I turned, I was like, 'It's going in,'" she recalled, calling it a "perfect shot."
After the dismayed Firebirds walked off the floor, Duncan knew there wasn't much he could say in the locker room to make the emotional players feel better.
"I think we were all sick to our stomachs," he said.
O-South had a five-point lead entering the fourth quarter, but Kirkpatrick and Casady helped erase that lead. They combined to score all 12 of Free State's fourth-quarter points. A basket inside by Casady with 1:13 left tied the game at 49.
It was the third quarter, though, that helped key the Falcons victory. The home team outscored Free State, 22-7, in that stretch as the Firebirds went 2-for-11 from the field and turned the ball over five times. With that, a 10-point halftime lead for FSHS turned into a five-point deficit with eight minutes to go.
"We knew they would make a run," Duncan said. "They're a great team. They're undefeated for a reason. It would've been real easy for us to kind of fold."
The Firebirds already led 13-10 after the first quarter, when Kirkpatrick scored seven of her 16 points, and they started piling on in the second, when the Falcons struggled with seven turnovers and 5-for-13 shooting.
Casady (who finished with a game-high 18 points) had seven points, two steals and two rebounds in the second quarter, which she capped with a smooth baseline jumper off a pass from Jackie Garcia with just three seconds remaining. The shot appeared to give FSHS momentum, and secured a 31-21 halftime lead.
Duncan said when Casady plays like that, the Firebirds are a tough out.
"She was crucial for us tonight," Duncan said. "She just had that look in her eye that she was there to play."
Firebirds Garcia, Abbey Casady, Lynn Robinson and A'Liyah Rogers scored four points apiece in the loss.
Though the buzzer-beating heartbreaker was difficult for the Firebirds to go through, Duncan wants to turn it into a positive for his team.
"Sometimes it's moments like that," he said, "that actually help you throughout the rest of the course of the season and in the postseason."
Chelsea agreed, and said Free State is already looking forward to a possible rematch at sub-state.
"We realized that we'd rather lose this one and win the next one," she said.
At 5:30 p.m. Tuesday, FSHS plays host to Shawnee Mission Northwest.
Copyright 2018 The Lawrence Journal-World. All rights reserved. This material may not be published, broadcast, rewritten or redistributed. We strive to uphold our values for every story published.