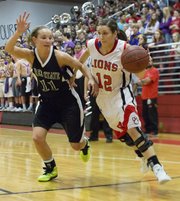 Emma Kelly isn't the only one who remembers the moment exactly. Her Lawrence High girls basketball teammates and coaches do, too.
Playing against Blue Valley West in the Firebird Winter Classic last season, Kelly brought the ball up the floor for the Lions in the second half as coach Nick Wood called out their set.
They were running "big," so Kelly passed the ball away and began her assignment. The guard came off a screen on the wing and moved down to the post, where she needed to set a pick and create an opening for one of Lawrence's forwards.
Wood recalls Kelly, then a junior, planting her left leg on the block in preparation for a screen: "It just gave out," he said.
"I just cut on it weird, and I felt a pop," Kelly said. "I thought I had just popped my kneecap out of place again, because it had happened to me so many times."
What she felt, though, was a different level of pain — much worse than an unstable kneecap. No one had any idea Kelly had torn the anterior cruciate ligament in her left knee.
Her teammate, Anna Wright, was on the court when it happened. Initially, she didn't notice Kelly had fallen to the floor in pain.
"I didn't think she was really hurt that bad," Wright said. "I thought she'd be able to come back the same game."
The diagnosis came a few days later, and the news hit the Lions just as hard as it hit Kelly. Wood still regrets the freak injury and wonders what would have happened if he hadn't called that play. LHS, 4-6 at the time, lost to BVW by three in overtime and dropped eight of its next 10 games to close the season.
"We had really started to figure out who we were and started to play the kind of basketball we wanted to play," Wood said of the Lions' state in late January, when it lost Kelly for the year.
Instead of peaking in February, the Lions had to figure out who they were all over again as a key piece of the puzzle had season-ending surgery.
"It wasn't necessarily a points-per-game-type of thing," Wood said. "It was just her ability to handle the basketball for us and just her understanding of what we're trying to do."
Kelly described the rest of her junior season as miserable. She had played basketball since elementary school, but found herself relegated to running the clock at practices.
"I could see everybody else practicing," Kelly said, "and I couldn't be out there with them."
Her next six months consisted of rehab, beginning with bending exercises to regain full motion, then on to strength-building. Throughout the difficult process, the thought of returning for her senior season kept Kelly motivated.
Said Wright: "She kept a positive attitude about everything."
The end of July signaled a return to basketball activities. Kelly never doubted herself, in part because she had seen Free State's Jackie Garcia return from the same injury to play her senior year
"It was scary getting right back into it," Kelly said of jumping and making hard cuts when she returned. "But now I don't think about it at all, really."
As LHS (1-3) practices during the winter break, Kelly feels 100 percent, even while wearing braces on both legs — one to support her rejuvenated left knee and one to support her right kneecap. She might never lead Lawrence in scoring, but Wood holds great respect for her because of her senior leadership and the depth she provides off the LHS bench.
"She gave up her knee for our basketball program," Wood said, "and never complained about it."
Kelly is too happy about playing to spend any time griping. She said, if anything, her injury has affected her by making her work harder.
"Any play," she said, "could be your last play, pretty much."
Copyright 2018 The Lawrence Journal-World. All rights reserved. This material may not be published, broadcast, rewritten or redistributed. We strive to uphold our values for every story published.