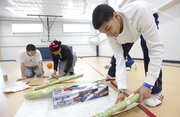 Lawrence High's boys basketball team gathered to wrap gifts for a good cause, having a good time themselves in the process, Thursday at Immanuel Lutheran Church, 2104 Bob Billings Parkway.
The Lions had adopted a local family of four through Lawrence Family Promise this holiday season. Players wrapped presents for the family and kept spirits bright on the church's basketball court.
Copyright 2018 The Lawrence Journal-World. All rights reserved. This material may not be published, broadcast, rewritten or redistributed. We strive to uphold our values for every story published.