Lansing — A sluggish first half that featured 10 Free State turnovers and a 10-point deficit at the break proved to be too much for the Firebirds' boys basketball team to overcome in a 57-53 loss to Lansing on Saturday.
Photo Gallery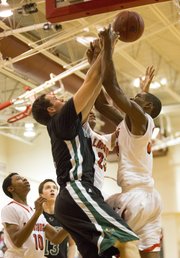 Free State boys vs. Lansing
With his offense struggling to find a rhythm, FSHS coach Chuck Law looked to his defense to stage a comeback, and it nearly worked.
During the final timeout of the third quarter, with his team trailing by nine, Law switched to a 1-3-1 zone, with long and lean junior Khadre Lane at the top. Free State quickly ripped off a 12-3 run that cut the Lansing lead to 51-49 with 1:19 to play.
Unfortunately for the Firebirds (2-1), Lane (nine points) sat most of the night due to foul trouble and fouled out with 50 seconds to play. Still, Free State continued to fight, but Lansing, which did not record a field goal in the fourth quarter, made 12 of 14 free throws on the night and drilled six straight in the final 37 seconds to seal the victory.
"The guys who were on the floor at the end of the game did a really, really good job," Law said. "I could not have been more happy. This game was lost in the first half."
Reshawn Caro, who hit the first six shots he attempted, teamed with Cole Moreano to score 13 apiece to lead Free State. Cody Scott, who made all four of his shot attempts, added eight.
Copyright 2018 The Lawrence Journal-World. All rights reserved. This material may not be published, broadcast, rewritten or redistributed. We strive to uphold our values for every story published.