It took a little more than six quarters, but Friday night against Shawnee Heights, junior forward Khadre Lane finally looked like the player Free State High boys basketball coach Chuck Law needs him to be.
Photo Gallery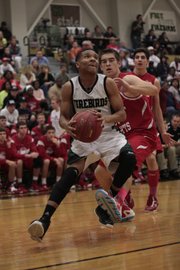 Free State boys vs. Shawnee Heights
Photos from the boys basketball game between Free State and Shawnee Heights on Dec. 7, 2012, at FSHS.
Only sporadically effective in the Firebirds' narrow, season-opening win three days before, Lane — who transferred to FSHS from Bishop Seabury — took some of his new coach's words to heart against the Thunderbirds and led Free State to a 77-54 victory in his home debut.
Law made it clear that he wanted the 6-foot-4 junior impacting the game by getting to the paint and attacking the glass. Lane put that strategy in action for the first time in the second half.
After passing out a couple of assists in the first quarter and scoring six points in the first half against the T'birds (1-2), Lane began asserting himself in the third quarter. His first of seven second-half buckets came on an offensive rebound and put-back. After that, he cut to the paint for an easy layup and manufactured his own basket by driving from the top of the key and exploding to the rim for another lay-in.
"He needs to do those things to help this team win," Law said. "He can do that and be really successful."
The coach liked not only Lane's team-high 21 points but also his seven rebounds, which led to seven second-chance points.
Lane said he played smarter in his second game for Free State (2-0). After a 3-for-10 shooting effort at Topeka Seaman, Lane went 9-for-17 against Heights.
"I just stopped settling for jumpers like I did the last game," he said.
Lane knows Law wants him using his athleticism and changing the role he used to be more comfortable playing.
"Last year at Seabury I was more of a guard and in the summer (in AAU games) I'm kind of more of a guard," Lane said, "so it's just a little different to play like a forward. It worked out good tonight."
So did an up-tempo pace, which got the Firebirds 70 shot attempts in 32 minutes — they made 31, for 44 percent.
Said Law: "I think we've got the athletes to play that way and I think we've got the skill set. I think that better serves what we've got right now. I've always wanted to play that way and sometimes in the past we've been able to do it. But that was how I'd like to see this team play."
Lane credited junior forward Cole Moreano (10 points) for jump-starting the highly productive night. Moreano scored seven points in the first minute-and-a-half and FSHS led 27-15 after the first quarter.
"Cole gave us a big boost right off the bat," Lane said. "Once he started going everybody picked up right after him."
Starting junior guard Reshawn Caro scored 11 points, and Free State got another great night from its bench. Blake Winslow led the second unit with 12 points, Cody Scott scored eight and Kyle McFarland had five points and seven rebounds. The Firebirds' bench finished with 35 points, compared to nine for Heights' subs.
Law said his team's backups are more than capable of keeping the up-tempo style and production of the starting five.
"That's huge, because you've got a lot of interchangeable pieces," the coach said.
Free State plays at Lansing tonight at 7:15.
Copyright 2018 The Lawrence Journal-World. All rights reserved. This material may not be published, broadcast, rewritten or redistributed. We strive to uphold our values for every story published.