Free State High's girls basketball team didn't allow a second-half lull to ruin its home opener Friday night.
Photo Gallery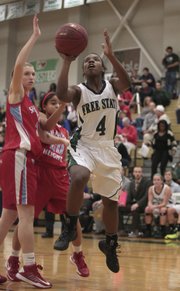 Free State girls vs. Shawnee Heights
Photos from the girls basketball game between Free State and Shawnee Heights on Dec. 7, 2012, at Free State.
When Shawnee Heights slashed the Firebirds' 17-point halftime lead to four midway through the third quarter, FSHS coach Bryan Duncan turned to his bench. Summer Frantz, Ariana Frantz and Courtney Parker teamed with starters Scout Wiebe and A'Liyah Rogers to give their team just the defensive combination it needed.
Within minutes, the Firebirds got back on track and buried the Thunderbirds, 73-49.
"Obviously, we weren't happy to see a lead disappear like that," Duncan said, "but honestly we weren't really mad. We just needed a different look."
Heights (1-2) scored 19 points in the first few minutes of the second half after struggling throughout the first half, shooting 7-for-20. That's when Duncan decided to give his senior bench players — the Frantz twins and Parker — a shot. Duncan said they gave Free State (1-1) the match-ups it needed on the defensive end.
"That's the nice thing about having so many seniors," Duncan said. "We're able to put quality players on the court."
The T'birds only managed two more points the remainder of the third and FSHS closed the game on a 31-12 run in the final 10 minutes.
Rogers, who scored seven of her 12 points in the fourth quarter, said the Firebirds felt too confident about their double-digit halftime lead.
"We weren't communicating (in the third quarter). We were just kind of being lazy on defense," Rogers said. "Nobody was giving it their hardest."
But they soon found resolve to finish strong after failing to do so in their season-opening loss three days earlier.
"We need to keep that mentality of 'We're up. Let's stay up and keep going,'" Rogers said.
Wiebe scored 13 of her team-best 17 points in the second half. Between the junior forward, Rogers and junior Millie Shade's eight points off the bench in limited minutes, Free State found a number of options to compliment senior guard Kennedy Kirkpatrick, who finished with 14 points, five assists and three steals.
Said Duncan: "That's what we need. Every game, hopefully we'll have different people step up and be productive."
Rogers agreed: "Kennedy does a lot for us, and we need to learn how to step up and do what we need to do to help her out. I know she doesn't want to be the only one out there trying to do everything."
Free State finished with a monster fourth quarter, outscoring Heights 24-10 in the final eight minutes. In that stretch, Kirkpatrick had five points, Chelsea Casady scored four and Ilene Tolbert added six more in the final minutes.
The Firebirds play again at 5:45 p.m. today at Lansing.
Copyright 2018 The Lawrence Journal-World. All rights reserved. This material may not be published, broadcast, rewritten or redistributed. We strive to uphold our values for every story published.