Photo Gallery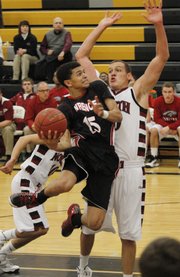 Lawrence Lions vs. Lee's Summit North
The Lawrence High boys basketball team lost 55-47 to Lee's Summit North, Thursday at Blue Valley High school in the Blue Valley Shootout tournament.
Stilwell — Lawrence High's boys basketball coaching staff is still in the process of trying to figure exactly how it wants to play defensively because of a lack of height on this year's team.
Lee's Summit (Mo.) North exposed the Lions' weakness Thursday afternoon, dominating inside in a 55-47 victory over LHS in the opening game of the Blue Valley Shootout.
Six-foot-5 forward Tyler Anderson provided the biggest mismatch. The LSN senior posted a game-high 18 points on 7-for-9 shooting.
"He, in my opinion, was the difference," LHS coach Mike Lewis said. "He was a physical kid. We did OK with trying to adjust to him, but there were a few possessions there where it was just too easy."
Lewis wasn't just putting responsibility on the Lions' big men, though. The coach said the guards could have done more to help their forwards down low by being less choppy on rotations while also improving in help defense.
"We just have to get in there and be scrappier, be tougher," LHS freshman guard Justin Roberts said, "and just be pit bulls and help them out."
LHS, which trailed just 24-23 at half, fell behind 47-36 with 3:15 left in the fourth quarter before putting together one final surge with help from a full-court press.
Austin Abbott hit a three off an assist from sophomore Anthony Bonner, then Bonner added his own three after getting a kickout from Roberts.
After two missed free throws by North, Bonner put in a transition layup for an 8-0 run that cut the Broncos' lead to 47-44 with 1:57 left.
"I think we got them discombobulated," Bonner said. "They weren't ready for (the press), and we got some steals."
The Lions wouldn't get any closer, though, failing to get a defensive rebound the next possession, which eventually led to a North three-point play.
One positive for Lewis was seeing the makings of a strong backcourt for this year and beyond, led by the underclassmen Bonner and Roberts.
Bonner, a 6-1 guard, scored a team-high 15 points on 5-for-11 shooting, which included 2-for-5 shooting from three.
Roberts, meanwhile, had 11 points on 4-for-13 shooting while making three of eight threes. Both players also showed an ability to get the lane off the dribble before finding each other for open shots on the perimeter.
"We have a good chemistry. We're best friends," Roberts said. "We're always together. We just know each other on the court and off the court, so we just play well together."
The two teams' strengths came through in the final numbers. North made 56 percent of its shots (20 of 36) while attempting just six three-pointers, while LHS scored more than half of its points from the outside, making nine of 22 treys (41 percent).
"We're going to live and die on certain nights with the three-point shots," Lewis said. "I really hope we're able to get it to the basket and attack a little bit better and finish and get ourselves to the free-throw line, too."
LHS (1-1) will play Olathe North at 3:15 p.m. today in the consolation bracket of the Blue Valley Shootout.
Copyright 2018 The Lawrence Journal-World. All rights reserved. This material may not be published, broadcast, rewritten or redistributed. We strive to uphold our values for every story published.