If Lawrence High boys soccer coach Mike Murphy could have come up with a criticism of his team after its Friday night season opener, he would have.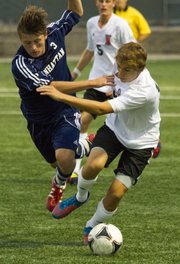 Preparation wasn't an issue, because the Lions dedicated themselves to offseason training. Controlling the ball rarely seemed problematic, with LHS holding an advantage in possession. Not even defensive mistakes could be blamed.
There might not have been any good reason for a home loss, but at the end of 80 minutes the scoreboard read: Manhattan 1, Lawrence 0.
Lawrence out-shot visiting MHS 15-9 in the game and 10-5 in the second half, but Manhattan junior forward Eric Gray's score in the 35th minute of the first half gave the Indians all they needed for a victory. Gray beat the LHS defense to a loose ball about 20 yards out and fired it past diving goalkeeper Jeff Mekus for the game's only score.
"Could've won, should've won," Murphy said after the loss, "just unfortunately this team's had our number."
Manhattan (1-0) blanked the Lions, 3-0, last season. LHS senior forward Nick Andrews said after the Lions built some momentum in the first half, Gray's score altered the game's flow.
"A goal in the last few minutes (of the half) is kind of tough to recover from," Andrews said.
The Lions (0-1) didn't allow the halftime deficit to alter their approach, though. They returned in the second half and played even more aggressively. Senior midfielder Justin Riley nearly had the equalizer in the 41st minute, but his shot sailed just more than a foot over the crossbar. Two minutes later, senior forward Robert Lyan's shot deflected off an MHS defender and into the hands of goalkeeper Kai Reever. In the 44th minute, Lyan had another chance off a pass from Conner Murphy, but his shot rifled off Reever's gloves, stopping short of the goal line before the Indians cleared the ball.
More opportunities appeared for LHS in the second half, but neither Johannes Reiber, Parker Davies, Andrews nor Riley could produce the perfect shot. Murphy said his team has to do a better job of finishing, but that tends to be difficult early in the season.
"These guys played their guts out," the coach said. "We just couldn't get a couple shots to fall. Their keeper made a couple really nice saves, I mean fantastic saves."
Defensively, Lawrence's Connor Henrichs, Bray Kelley, Dalen Reed, Riley and Davies all helped stymie MHS attacks throughout the loss.
Reever finished with five saves for Manhattan, while Lawrence's Mekus picked up four of his own.
The loss, Murphy hoped, would at least help the Lions troubleshoot.
"Even though we think maybe we're working hard enough, training hard enough, focused enough, we know obviously there's still some work to do," he said.
Andrews agreed, and said LHS needs to regroup and move on.
"Losing the first game will probably give us a little more fight," the senior forward said.
At 7 p.m. Tuesday, Lawrence plays host to Topeka.
Copyright 2018 The Lawrence Journal-World. All rights reserved. This material may not be published, broadcast, rewritten or redistributed. We strive to uphold our values for every story published.