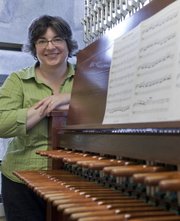 In the center of a tiny gray office, 70 steps up a tiny, barely lit spiral staircase, sits the nucleus of the Kansas University carillon.
The instrument, which looks a bit like a cross between an organ and a loom, leaves little space to squeeze around. A window air-conditioning unit buzzes. Metal riggings clack, and wooden batonlike keys thud as university carillonneur Elizabeth Egbert Berghout plays "Home on the Range." Though the carillon's 53 bronze bells hang right above the playing cabin, they sound far away.
The no-nonsense interior belies the instrument's exterior sound, which resonates in grand fashion over the entire Oread neighborhood.
"It's easy to just get caught up in playing and listening to the bells," Berghout said, "and forget that, oh yeah, there are people walking across campus."
The sound of the bells is as much a part of KU's infrastructure as the bell tower itself, and Berghout loves being part-creator of that atmosphere.
The World War II Memorial Campanile and Carillon at KU, which Berghout said is among the best in the world based on size and sound, is the only one in Kansas and one of only about 200 in North America. (Carillon refers to the instrument, including the keyboard, bells and riggings. The campanile is the tower that houses it.)
Berghout played a carillon once as a child when one of her mother's piano students took them up into the carillon at Brigham Young University, not far from their home in Utah. She recalls pecking out a simple song, probably "Mary Had a Little Lamb," and thinking it was kind of neat but not much more.
World War II Memorial Campanile and Carillon by the numbers
300 — Approximate weight of
largest bell's cast-iron clapper, in pounds
70 — Spiral steps to playing cabin
61 — Years since carillon dedicated
53 — Total bells in carillon
32 — Total weight of all bells, in tons
8-10 — Average number of students taking carillon classes at a given time
4 — Community members with access to play the carillon
1 — Official university
carillonneur
Years later, after arriving at KU for graduate classes in organ, Berghout attended the campanile's rededication concert in 1996.
That time, she was smitten by the sound of the bells.
"I just fell in love with them," she said.
After the concert, Berghout climbed the tower with other members of the public for a peek inside, where then-carillonneur Albert Gerken demonstrated, his hands and legs moving furiously and simultaneously to hit all the notes.
"It was a very physical instrument," Berghout said. "But it was a sound that didn't sound physical — it was a beautiful, almost seamless, sound."
Berghout, who became university carillonneur in 2000, holds a master's degree in church music and a doctorate in organ from KU.
She plays for commencement, occasional other memorials and recitals every Sunday at 5 p.m. During the school year, she performs at noon Tuesdays and Thursdays, and in the summertime at 8 p.m. Thursdays.
Now, she said, the university offers master's degrees in carillon, though a number of students take classes as electives. She typically has eight to 10 carillon students at any given time. They come from a variety of majors but need keyboard and music-reading experience and instructor permission to enroll.
There are a small handful of community members who also play, including a couple of church organists and Matthew Buechner, an associate professor in KU's department of molecular biosciences.
Buechner learned to play the carillon at Yale University, where he got his undergraduate degree. He comes from a musical family and had studied piano before he spotted a "Learn to play the bells" poster that piqued his interest in taking a class.
At KU, the largest bell, which plays the note that chimes the hour, is roughly 7 feet wide and 6 feet high. The smallest bell is only about the size of a gallon of milk.
A firm press on the correct baton is all it takes to move even the biggest bell's 300-pound cast-iron clapper.
"You get this grand sound out without any electronics at all," Buechner marvelled. "It's all mechanical."
Buechner is a member of the Guild of Carillonneurs in North America, has played a few recitals at KU and said he tries to practice at least once a week — you might hear him playing on Friday evenings, a practice time slot he said most of the undergraduate students avoid.
Buechner said he even enjoys playing the practice carillon, which is located in a room one level down from the cabin housing the carillon that's actually connected to the bells.
Practice is important with any instrument, but perhaps a carillon even more than others.
"You've got to make sure you get the notes right," Buechner said, "because everyone's going to hear you."
— Features reporter Sara Shepherd can be reached at 832-7187. Follow her on Twitter at Twitter.com/KCSSara.
Copyright 2018 The Lawrence Journal-World. All rights reserved. This material may not be published, broadcast, rewritten or redistributed. We strive to uphold our values for every story published.