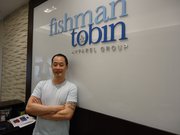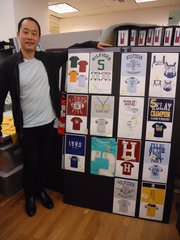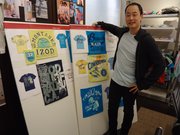 When former Lawrence resident Donald Lee traveled to New York City to visit family just over a year ago, he never imagined his weeklong trip would turn into a permanent stay.
In fall 2009, Lee moved from Manhattan, Kan., to Lawrence to help open ACME, 847 Mass., Lawrence's very own custom T-shirt store. This design guru had graduated from Kansas State University in 2007 with a graphic design degree and worked for a firm that designed municipal websites.
The store owners hired Lee and one other employee to venture into our beloved college town to design and sell "hot and fresh" custom T-shirts. Two years after a successful store launch, Lee got restless. During his visit to New York, he made a decision that changed the course of his life.
"I liked my job at ACME. It was a fun atmosphere, and I got to be creative. But it was time for me to get out of Kansas because I had lived there my entire life," he said.
While on his trip, Lee submitted his resume and portfolio to New York apparel design firm Fishman & Tobin. The next day, he received a call from the company, which boasts brands like Tommy Hilfiger, IZOD, Disney and Nautica asking for an interview.
"I honestly had no idea what they did. I just knew they were looking for a T-shirt designer. They asked me to come up with a few designs and gave me all the branding information for Tommy Hilfiger. That's when I knew what this was all about."
Lee designed four mock-ups over the weekend and submitted them to Fishman & Tobin on a Monday morning.
"They said, 'OK, we'll call you.' From what I thought, I had given it a good try and I was going to go back to Kansas. Then they called me that afternoon and offered me the job."
The match between Lee's skill set and experience and what Fishman & Tobin was looking for in a designer for could not have been scripted more perfectly.
"They needed someone who was familiar with designing T-shirts, who knew fits and fabric and who had an understanding of retail. They were looking for exactly who I am. I went back to Kansas, packed up and started at Fishman & Tobin a week and half later."
I visited Lee at his office just across from the Empire State Building a couple weeks ago, and he gave me a tour of the Fishman & Tobin offices.
Each brand they design for has its own glass-windowed showroom complete with sample garments hanging on organized racks, a plethora of fabrics scattered over a table and posted designs that are up for review.
The showrooms each take on the aura of the brand they represent, but Lee hasn't let these strict branding guidelines take away his creativity or dedication to working in a "fun" environment.
When we walked into the IZOD showroom, a brand for which Lee designs boys' shirts, he made sure to point out one shirt design in particular. It included a picture of a surfer catching a wave. He pointed to the surfer.
"That's me," he said with a smile.
He is quick to point out that without ACME, he may have never gotten his job with Fishman & Tobin. Needless to say, Lawrence's ACME left its mark on him, but he's left quite the mark on Lawrence as well. As a matter of fact, you can still see his mark, in the form of T-shirt designs, on the wall at ACME.
Copyright 2017 The Lawrence Journal-World. All rights reserved. This material may not be published, broadcast, rewritten or redistributed. We strive to uphold our values for every story published.