In the chapel at Presbyterian Manor, an orchestral band is performing for an appreciative audience. Toes are tapping and heads are swaying to the upbeat arrangements.
Their pieces range from rolling, fluid arrangements of "Home on the Range" to lively marching tunes to hometown favorite "I'm a Jayhawk."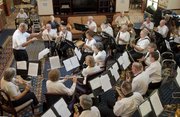 Looking sharp in crisp white shirts, the band members are senior citizens who are a part of the New Horizons Band. Band members range in age from 50s to 90s, and come from within and outside of Lawrence to participate. They come to attention at the baton of John Towner, who has directed the band for nine years.
"New Horizons bands started in the early 1990s," explains Towner. "These are groups for senior citizens who just meet someplace in the community to play their instruments. They can be orchestral bands or choral bands, big or small."
The Lawrence chapter was started 16 years ago, and Towner is the third director. With a career behind him, Towner got involved with the band through a friend, Clyde Bysom, the band's oldest member at 94.
"I taught public school music for 38 years and then retired," says Towner. "I could just be loafing around, but I enjoy being around people who do this."
The group has played at Presbyterian Manor, Brandon Woods, Pioneer Ridge, Babcock Place and First United Methodist Church. They also played a few pieces at Free State High School's winter concert. While the season runs from September to April, the group meets to practice every Friday afternoon at the Lawrence Senior Center, 745 Vt.
For some members, this group is just another musical outlet on top of a music profession. For others, it is a place for returning to an instrument long unplayed, perhaps even since high school.
The latter is the case for Kathleen Argersinger, who is one of the youngest in the group and only joined this year. She had played the flute from fifth grade through high school, and then picked it up again a couple of years ago. Wanting to improve her skills, she joined the New Horizons Band after reading about it in the newspaper.
"I love it," Argersinger enthuses. "Everyone is so nice and genuine, and they care about each other. A lot of them are older than I am, and they are really role models for me. What's amazing is that there are so many high quality musicians who've played their whole lives."
Copyright 2018 The Lawrence Journal-World. All rights reserved. This material may not be published, broadcast, rewritten or redistributed. We strive to uphold our values for every story published.