Overland Park — One by one, the matches on the surrounding Indian Creek Racquet Club courts wrapped up.
By the end of a long Thursday at the Sunflower League Tennis Invitational, an unlikely duo took center stage. Playing in the No. 1 doubles third-place match, Free State High's Nick Pellett and Richard Lu commanded the spotlight on Court No. 4, as they knocked off Shawnee Mission Northwest's Connor Mitts and Connor Holman, 6-2, 6-3.
Photo Gallery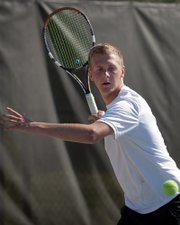 2012 Sunflower League boys tennis invitational
The victory gave Pellett and Lu a 3-1 record on the day and assured the Firebirds of a fourth-place finish overall — one point ahead of SMNW, and 17 points behind runaway champion Shawnee Mission East.
"Usually, there's not that many people watching," Pellett said of the final match, "but it's kind of nice to have some support out there."
There was some extra incentive, Lu added.
"We lost to them earlier this season, and we had nothing to lose," the junior said. "We just went out there and phased out everything else and tried to win it."
Junior Josh Saathoff, Free State's No. 2 singles player, spent more time on the court than most. Saathoff's semifinal loss took nearly two hours and his third-place match against Olathe South's Conner Petty ended with a super tiebreaker (instead of a full third set, the match was decided like a tiebreaker, and the first to 10 won). After Saathoff took the opening set 7-5, Petty responded with a 7-5 win in the second set and a 10-3 victory in the super tiebreaker.
The physicality of the tournament showed on Saathoff as he stretched his calves after each game, trying to ward off cramping. Plus, there was the mental toll.
"You've just gotta try to keep the ball in. You don't want to lose a point," Saathoff said. "It's intense."
In No. 1 singles, FSHS senior Andrew Craig finished seventh, which coach Oather Strawderman said assures him of a No. 2 or 3 seed at regionals, on May 4.
The Firebirds' No. 2 doubles team, Miles Stevens and Brandon Juracek, finished sixth.
Irick 5th in No. 1 singles
By the time Thomas Irick got to the fifth-place match in the No. 1 singles bracket, he didn't look the part of a Chesty Lion.
His blue T-shirt, lacking any red or black, was hard to argue with, though. The Lawrence High sophomore defeated Austin Crist, 8-1, to finish 3-1 at the tournament.
"This is the only shirt I had left," Irick said, explaining he had sweat through three others en route to his final match.
To celebrate his win, Irick threw back a cold can of Coca-Cola — a reward from LHS coach Chris Marshall for taking fifth place after coming in as the No. 6 seed.
Irick needed the victory even more than he needed the Coke. He served four aces in making quick work of Crist and assured himself of a No. 1 seed at the upcoming regional.
"This is a big tournament, so you've gotta be on your A-game," Irick said. "I think I brought it."
LHS placed eighth in the team standings. In No. 1 doubles, Lions Matt Grom and Pace Leggins took eighth. LHS junior Victor Andrade finished ninth in No. 2 singles. Randy Walter and Matthew Mikel were ninth in No. 2 doubles.
Copyright 2018 The Lawrence Journal-World. All rights reserved. This material may not be published, broadcast, rewritten or redistributed. We strive to uphold our values for every story published.