After losing two of three games this past weekend at the River City Baseball Festival, Lawrence High's players couldn't wait to get back on the field and prove themselves.
That's exactly what the eager Lions did Tuesday, with a 6-1 victory over Olathe North at LHS.
LHS coach Brad Stoll said his team had a "great" practice Monday, and the players were upbeat and ready to bounce back from getting no-hit Saturday against Raymore-Peculiar (Mo.).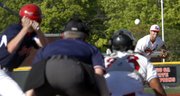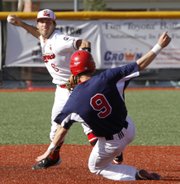 "That left a bad taste in our mouths," Stoll said, "and we weren't very happy, as a collective unit."
Lawrence's first hit against O-North starter Matt Slauter came in the bottom of the second, when senior Garrett Cleavinger smashed a low fastball for a two-run home run.
"We worked a lot the past few days with our two-strike approach and just trying to put the ball up the middle or hit it the other way," Cleavinger said, "and that's what I was trying to do."
But the right-handed senior turned on the pitch, pulled it and gave the Lions a 2-1 lead. He thought when the ball left his bat he might have flied out.
"It just kept going," Cleavinger said with a smile.
Slauter, who Stoll noted went at LHS with fastballs the first time through the lineup, recovered to retire the next seven LHS batters after giving up the bomb.
Lawrence (9-5) finally busted the game open with four runs in the fifth inning, with Slauter throwing more breaking pitches.
"We were ready," Stoll said. "I thought we put some really good swings on it."
Senior CJ Roush led off the fifth with a double down the left-field line. Cleavinger laid down a sacrifice bunt to get Roush over to third, but after Slauter fielded the bunt, his toss to first base bounced off Cleavinger's back, and Roush scored to put LHS ahead, 3-1.
Once Trevor Champagne sacrificed Cleavinger to second, Kieran Severa reached on an error. Shane Willoughby drove in Cleavinger with a single to right field, and CJ Stuever's two-run triple to right gave Lawrence a 6-1 edge.
Though the Lions finished with just five hits, Roush said they weren't discouraged.
"We were hitting the ball hard, just right at them," Roush said after going 2-for-3 with a triple and a double.
Willoughby (3-0) started on the mound and pitched six innings for the victory. The junior right-hander struck out eight batters and allowed six hits, with no walks.
Stoll had planned to pitch Willoughby for four innings, and then go to Cleavinger, who was due to throw a bullpen session anyway. Cleavinger only had to throw one inning thanks to Willoughby's command.
"Shane just threw so many strikes and got ahead of guys," Stoll said.
As Lawrence's No. 1 starter, Cleavinger hadn't closed out a game since his sophomore year. The senior retired each of the three O-North batters he faced and credited Willoughby for making his job easy.
Lawrence High will play at Shawnee Mission South at 4:30 p.m. Thursday.
Copyright 2018 The Lawrence Journal-World. All rights reserved. This material may not be published, broadcast, rewritten or redistributed. We strive to uphold our values for every story published.