Leavenworth starter Layne Broeker had just thrown eight straight balls and surrendered two walks to open the bottom of the first when Lawrence High coach Nick Wood walked over to say a quick word to his three-hole hitter, Morgan Byrn.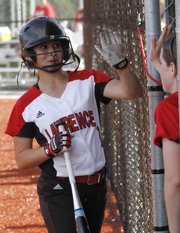 "We're not going to bunt here," Wood told Byrn, "but when you're up there, look for your pitch and go get it."
Turned out Byrn was listening.
The freshman turned on the first pitch she saw, blasting it to left field for a three-run home run that set the tone in Lawrence's 10-0, run-rule victory.
"I hit it off the bat, and it just felt amazing," Byrn said. "I knew it was going far."
The Lions also won the nightcap, 12-2, in six innings.
Byrn's home run was the first of her career.
She'd had close calls in summer league games before. A few times, she'd popped extra-base hits off the wall.
After watching this one sail over, Byrn started laughing as she circled the bases.
"I thought it was going to hit the fence," Byrn said, "but just looking at everyone's faces, I was like, 'Oh my goodness.'"
Byrn's homer was the first of 10 hits for LHS in the opener, which included a triple from Kenzie Garvin and doubles from Marly Carmona and Kristen Gile.
The Lions also showed patience against Broeker, drawing six walks in 41⁄3 innings.
The second game started out as more of a struggle offensively for Lawrence against Leavenworth starter Madison Herrig, whose low-40-mph pitches were slower than the Lions were used to seeing.
Sophomore outfielder Sami Buffalomeat posted three of her team's first four hits, which included a two-run double off the wall in the third.
"I just focused on hitting and loaded back," Buffalomeat said. "I was just ready."
The Lions scored five in the fifth to pull away, with Buffalomeat, Garvin and Carmona providing singles before a two-run triple to right field from Byrn.
Garvin ended the game in the sixth, driving an RBI single to right field to score Megan Wilson and enforce the 10-run rule.
Freshman Megan Sumonja picked up the win for LHS in both games. She struck out five, walked none and allowed just two hits in Game One, then came on in relief to pitch 22⁄3 scoreless innings in Game Two.
LHS (5-12) also had just one error in the two games.
"In all facets of the game," Wood said, "we did a really good job."
Amanda Mehl and Kassidy Husted each added two hits in Game One, while Andrea Mills contributed two RBIs — both on sac flies — in Game Two.
Copyright 2018 The Lawrence Journal-World. All rights reserved. This material may not be published, broadcast, rewritten or redistributed. We strive to uphold our values for every story published.