When Lawrence High baseball junior Shane Willoughby reached on an error in the bottom of the first inning and scored on a passed ball, it appeared Raymore-Peculiar (Mo.) pitcher Storm Rynard might be in for a long Saturday afternoon at Hoglund Ballpark.
Forget that.
Rynard retired 18 of the 25 batters he faced, struck out 10 and no-hit LHS in a 4-1 Panthers victory to wrap up the River City Baseball Festival.
Lawrence (8-5) reached base seven times in the loss, via three walks, three RPHS errors and one hit batter.
Still, the sophomore right-hander didn't let that stop him from recording the first no-hitter of his varsity career.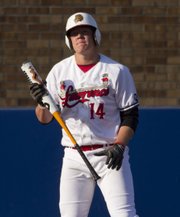 Lions hitters continually fell victim to Rynard's curve, change-up and fastball, which topped out at 88 miles per hour.
"I was just feeling it," he said, matter-of-factly.
LHS junior CJ Steuver could attest to that statement.
"He was spinning that curveball up there," Steuver said, "then the change of speed from an 88 (MPH) fastball to a 72 (MPH) curveball kept hitters off balance."
Before long, Rynard knew his command was taking a toll.
"About halfway through the second time through the lineup," the pitcher said, "I could tell they were kind of getting a little frustrated."
By going after the Lions and throwing breaking balls for strikes at various times in a count, Rynard drew LHS coach Brad Stoll's respect.
"He commanded the outer third of the plate and we refused, refused to make an adjustment," said a disgruntled Stoll.
The Lions starting pitcher, Cameron Solko gave up 10 hits while throwing a complete game. It only took two Panthers hits and a walk in both the third and fifth innings for RPHS (9-8) to score its four runs — two apiece in the third and fifth.
Though Troy Willoughby was hit by a pitch and Drew Green walked in the fourth inning, with LHS trailing 2-1, Rynard struck out CJ Roush and Garrett Cleavinger to end the inning and maintain Raymore-Peculiar's lead.
He faced just nine batters in the final three innings. Rynard retired the final eight consecutively after Trevor Champagne reached first on a throwing error to lead off the fifth, but he was tagged out after making a big turn toward second, not knowing RPHS catcher Garrett McKinzie had hustled to back up the errant throw.
After the no-hitter gave LHS a 1-2 record at the River City Baseball Festival, Stoll had to compliment Rynard.
"He's a stud. He's just a sophomore," the coach said. "I hope I never see him again in my life."
At 5:30 p.m. Tuesday at LHS, the Lions resume their Sunflower League schedule against Olathe North.
Copyright 2018 The Lawrence Journal-World. All rights reserved. This material may not be published, broadcast, rewritten or redistributed. We strive to uphold our values for every story published.