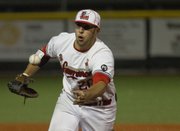 Lawrence High senior center fielder CJ Roush ran into the LHS dugout in the middle of the eighth inning and examined the Lions' lineup card.
With the top of the order due up and Roush in the six hole, he quickly determined he might be in line for a critical at-bat.
"The only way I'm gonna get up is two outs, bases loaded," he thought at the time. "Let's see if we can make it work."
Roush didn't labor in the batter's box when that exact scenario played out and smacked a game-winning single to right field, giving Lawrence a 2-1, extra-inning victory over Ozark (Mo.).
After OHS starting pitcher Zeke Barnes retired the first two Lions he faced in the bottom of the eighth, the LHS rally began with a single to right by senior Troy Willoughby. Senior Matt Sutliffe followed with a base hit of his own and advanced to second base as Willoughby slid in safely at third.
After Barnes, who hadn't allowed a base on balls the entire game, intentionally walked Drew Green to load the bases, Lawrence coach Brad Stoll felt confident with Roush batting in a pressure situation.
"CJ, he knew he was gonna get a fastball," Stoll said, "and he put a good swing on it."
Roush said he was determined in the eighth after leading off the bottom of the seventh by flying out.
"I ended up getting a little gift there," he said of the shot at redemption.
The Lions (8-4) wouldn't have had a shot at beating Barnes, who scattered eight hits in a complete game loss, and Ozark without a breakthrough pitching performance. Troy Willoughby had never started a varsity game before Friday at LHS.
The role suited the senior well. Willoughby struck out eight and gave up just five hits in seven innings.
He held his own in the pitching duel and said it was "nothing special" afterward.
"The coaches challenged us before the game," Willoughby said, "and I'm really proud of the guys for responding. It was a team effort for sure."
Willoughby retired 13 of the first 14 batters he faced before giving up three hits and a run in the top of the fifth.
"I didn't feel bad about the inning," he said.
Willoughby bounced back, striking out four of the final seven batters he faced before his younger brother, Shane Willoughby, relieved and picked up the victory.
Lawrence will face Raymore-Peculiar (Mo.) at 4:30 p.m. today at Hoglund Ballpark.
Copyright 2018 The Lawrence Journal-World. All rights reserved. This material may not be published, broadcast, rewritten or redistributed. We strive to uphold our values for every story published.