When Lawrence High's baseball team arrived Thursday at Hoglund Ballpark to open its three-day weekend at the River City Baseball Festival, a one-sided loss was not what the Lions had in mind.
However, Lee's Summit West (Mo.) lit up LHS, 13-5, confounding Lawrence coach Brad Stoll, who expected more from his team on a big stage, playing on Kansas University's baseball field.
"I'm upset," Stoll said, "because we get a chance to play in this big-time facility, and we didn't play well at all."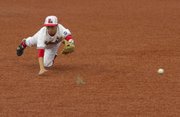 Really, nothing much clicked for Lawrence (7-4), which got a rare rough outing from senior left-handed ace Garrett Cleavinger. The Oregon signee only gave up two runs through the first three innings, but got into trouble in the fourth, when the Titans scored three more runs off Cleavinger, forcing Stoll to turn to reliever Shane Willoughby with one out.
"There are some really electric bats in that lineup," Stoll said, "and they took it to us, man."
Cleavinger looked sharp in the third, picking up three of his five strikeouts, but the Titans bounced back quickly in the fourth. An Orencio Fisher RBI single made it 3-0 and Monte Harrison's two-run double upped the Titans advantage to five. Matt Hall, the first batter Willoughby faced, singled to left, making it 6-0.
Said LHS senior Matt Sutliffe: "I think the fourth inning was when they just piled it on and we couldn't stop it."
The Titans scored three more in the sixth and four in the seventh. In the meantime, the Lions didn't have many solutions for LSW starting pitcher Matt Hall, a Missouri State signee. The senior southpaw went six innings, striking out eight, giving up five hits and allowing just one run.
Sutliffe, who played with Hall on a summer team before his sophomore year, called the Titans ace legit.
"He's probably the best pitcher we're gonna see this year," said Sutliffe, who doubled off his former teammate.
Willoughby, who had two of his three hits off Hall, said the entire game was disappointing.
"I think our energy level was pretty low to start off the game, and we started getting down and they kept piling on," Willoughby said. "We couldn't get one (run) across, which didn't help."
Once Hall left, and reliever Tanner Rosenthal entered in the seventh, Lawrence scored four runs. Troy Willoughby, Sutliffe, Drew Green and CJ Roush each drove in a run.
Shane Wiloughby was the only Lion with a hit through five innings — he singled in the first and doubled in the third.
Finally, in the bottom of the sixth, LHS found some success against Hall. Sutliffe led off with a double to left and sophomore Green moved him closer to home with a single to left field.
Though courtesy runner Driskell Johnson was picked off at first by Titans catcher Matt Fultz, Trevor Champagne was able to drive in Sutliffe with an opposite-field single down the right-field line, and put the Lions on the board, 9-1.
The Titans got out to an early lead with a run apiece in the first and second innings. In the top of the first, leadoff hitter Travis Stroup walked. He scored from first when sophomore Monte Harrison pounded a double to the left-field warning track.
LSW went up 2-0 in the top of the second, when Boston Woodworth, after tripling down the right-field line, scored on an RBI groundout by Matt Graham.
Stoll didn't want to blame the loss on any one area.
"We lost as a team and we're gonna play our butts off (today) as a team," the coach said after the loss. "That's the good thing about this River City. In 24 hours we're taking the field at Lawrence High."
At 8 p.m. today at LHS, the Lions play Ozark (Mo.).
Copyright 2018 The Lawrence Journal-World. All rights reserved. This material may not be published, broadcast, rewritten or redistributed. We strive to uphold our values for every story published.