Free State senior Nick Pellett doesn't think much about the streak, but admits it's hard to avoid it when FSHS and Lawrence High match up in boys tennis.
"I guess it's an expectation," Pellett said, "to not be the first team to lose."
Pellett helped make sure that the Firebirds' domination over the Lions continued Tuesday, winning both his singles and doubles matches as Free State took a 6-3 dual victory at the FSHS courts.
With the victory, Free State is 15-0 all-time in duals against LHS.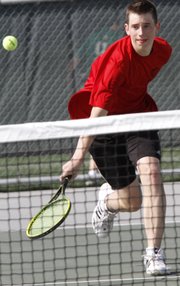 "It's a good thing we're 15-0," Free State coach Oather Strawderman said, "because over the 15 years, they've had some really, really great players."
LHS coach Chris Marshall didn't leave disappointed, though. The Lions took two of three doubles matches and had a better showing than a year ago, when they were swept by the Firebirds, 9-0.
"At least we made it competitive, and hopefully we put a little scare in Free State this year," Marshall said. "Hopefully, it's an upward trend."
Pellett, who will spend most of this season preparing to play doubles at regionals, thrived in his first competitive singles match of the year. At No. 3 singles, he defeated the Lions' Matt Grom, 8-3.
"It was nice to play singles for a change," Pellett said. "I wanted to make the most of it, so I came out and played pretty well."
Strawderman left especially pleased with the performances of No. 2 singles player Richard Lu (who defeated Randy Walter, 8-2) and No. 6 singles players Josh Saathoff (who defeated Matt Mikel, 8-4).
"Our kids did really well today," Strawderman said. "I was proud of them."
Lawrence's only singles victory came from No. 1 player Thomas Irick, who held off Andrew Craig for an 8-5 victory.
In last year's dual, Irick fell to Craig, 8-4.
"Consistency, I think, definitely helped me there," Irick said. "I also really like playing in the wind. ...
"Most people don't like it, and I grew up in it. So I figure, 'If it's going to be your friend or enemy, it might as well be your friend.'"
Irick also teamed up with Grom to take an 8-4 victory over Craig and Saathoff in No. 1 doubles.
Though they lost their singles matches, Marshall said he was happy with the efforts of No. 4 player Victor Andrade, who showed good control with his shots, and No. 5 player Pace Leggins, who was able to dictate tempo.
"It's not how we're playing today, but where we're playing at the end of the season that counts," Marshall said. "Kind of like NCAA basketball, it's a long journey, and you just hope you're still playing at the end."
Copyright 2018 The Lawrence Journal-World. All rights reserved. This material may not be published, broadcast, rewritten or redistributed. We strive to uphold our values for every story published.