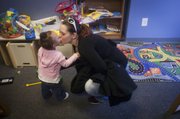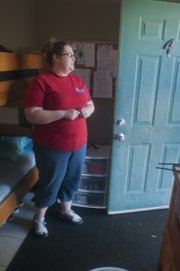 Methods of counting
Two separate measures for identifying the homeless population are used in this article. Here's the difference:
• The U.S. Department of Housing and Urban Development conducts a Point-in-Time Homeless Count every two years in January. This measure reflects the number of homeless identified during a survey conducted across the country on one specific day. Every other year, the count seeks to identify the number of homeless people in a shelter on one particular day. This type of survey, however, often fails to identify those "doubled up" with friends or family.
• The U.S. Department of Education requires that public schools try to identify the number of homeless students in schools. This measure is more encompassing than the Point-in-Time count and includes any student not in a permanent living situation. Homeless students are eligible for additional services from the school district.
Student numbers
Number of homeless students in the six Johnson County public school districts (Blue Valley, Spring Hill, Gardner-Edgerton, De Soto, Olathe and Shawnee Mission):
• 2007-08: 323
• 2008-09: 576
• 2009-10: 746
• 2010-11: 902
— Numbers reported to the U.S. Department of Education by the school districts.
Walk through downtown Lawrence, and there's a chance you'll spot someone who looks homeless, or maybe you'll run across a panhandler.
And with the region's largest shelter, the Lawrence Community Shelter, located downtown, homelessness has a visible presence in the city.
But in Johnson County, which, according to the Point-in-Time Homeless Count, actually has more homeless people than Douglas County — 315 to 226 identified in 2011 — the issue appears hidden.
"You don't see them," said Valorie Carson, who coordinates homeless services for United Community Services of Johnson County.
In Johnson County, Carson said, the face of homelessness is somewhat different than other communities, as the area doesn't have as high a concentration of single, homeless people. It's mostly families, doubled up with relatives or living in cars, trying to hide their housing situation, she said.
The increasing number of homeless students in the six Johnson County public school districts also reflects a growing increase in homeless families. Since the 2007-08 school year, the number of homeless students has nearly tripled, up to more than 900, during the 2010-11 year. The definition of homelessness used by schools is different than that in the federal Point-in-Time count, which is why the student numbers are much higher.
"No one wants to think it's in their backyard," said Kim Brabits, Catholic Charities' director of emergency assistance for Johnson County. "But it's there."
And most homeless families in Johnson County are scattered somewhere other than shelters, as the county has two small shelters that can house only up to about 60 people.
Many in need
Heather Miller, 22, and her 17-month-old daughter, Shylin, are among the Johnson County homeless fortunate to have temporary housing.
Since January, Miller and Shylin have lived at the Salvation Army's Johnson County Lodge, a homeless shelter for families. Eighty families are on its waiting list.
Miller, who is expecting a second child in August, lost her job as a waitress because she wasn't able to coordinate day care for her daughter. Miller and Shylin's father split up, and Miller bounced around "couch-surfing" for five months before entering the shelter.
"Things were looking grim," said Miller, who was fearful of losing her child to state custody. "I cried my eyes out."
For the past two months, Miller and Shylin have been living at the shelter, which is 10 converted motel rooms in Olathe. It isn't glamorous, but it'll do as Miller saves for her own place. Some of the families cram four people into the 12-foot by 12-foot rooms.
Miller's story of homelessness is typical, say advocates from the network of social service agencies working with the homeless in Johnson County.
A lost job, a few unfortunate situations, or a lack of strong family support are drawing more people into homelessness.
"There have been a lot of people who are at the edge," Carson said. With the bad economy, "they fell."
Miller's hunt for a job is consistent with the other stories Carson hears. Miller spent six months looking for work, but no luck.
"I applied anywhere and everywhere," Miller said.
"We were always able to get people employed" in Johnson County, Carson said, but that's not the case anymore.
Strain on services
The increase in the area's homelessness continues to strain the area's social service agencies, Brabits said.
"Sometimes it's just piecemeal," said Brabits, describing how the few agencies work together, cobbling together resources for the homeless. "It's heartbreaking when you run out of funds."
There doesn't seem to be a consensus among Johnson County social service agencies about whether the number of homeless will continue to grow in the county. The 2009 Point-in-Time Homeless Count — which is mandated by the U.S. Department of Housing and Urban Development and seeks to identify the number of homeless across the country — showed 210 homeless people in Johnson County in 2009. That number grew 50 percent, to 315, in 2011. Another count will be conducted in 2013.
Even though the social system is stressed and the numbers to keep growing, Miller credits the advocates in helping her climb out of homelessness.
Miller obtained her Certified Nursing Assistant license, and is working full-time, making $9.50 an hour. In a short time, Miller said she thinks she'll have enough saved for a two-bedroom apartment.
"Just keep working," Miller said.
By this time next year, Miller said she hopes to be able to "take care of my family without having to rely on someone else."
Copyright 2018 The Lawrence Journal-World. All rights reserved. This material may not be published, broadcast, rewritten or redistributed. We strive to uphold our values for every story published.