Though Free State High's girls soccer team won its first two matches of the season with ease, the Firebirds knew Thursday night's home showdown with Shawnee Mission West would be its first true test.
The Vikings, Class 6A state runners-up in 2011, had the kind of scrappy and powerful players that FSHS had not yet encountered this season.
Photo Gallery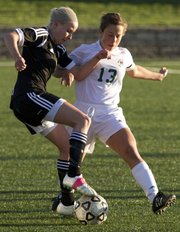 Free State girls soccer vs. Shawnee Mission West
The Firebirds didn't have quite enough ammo to knock off SMW, but a late second-half goal from junior Abbey Casady forced overtime, and after 100 minutes of soccer the match ended in a 2-2 tie.
Free State coach Kelly Barah said his team knew coming in Shawnee Mission West (3-2-1) would provide a great battle, and that's exactly how the match played out.
"I just love the team's fortitude right now," Barah said.
The Vikings took a 2-1 lead into the final four minutes of the second half, but Casady found a rare one-on-one opportunity in the 76th minute against SMW goalkeeper Alyssa Gregory and put it to the keeper's right to tie the match.
"The goal wasn't necessarily the prettiest thing," Casady said with a laugh, "and I didn't use a lot of skill to do it. I was just kind of in the right place at the right time."
Once FSHS (2-0-1) forced overtime, its defense and senior goalkeeper Elena Auer stymied each SMW attack. Whether it was Olivia Hodison, Rylee Feurst or Amber Hicks knocking the ball out of the box or Auer diving to make one of her six overtime saves, the Firebirds always had a solution.
That doesn't mean that it was easy, though, Auer said.
"Especially when it comes down to the last few minutes, it's really stressful," the senior keeper said, "but I have faith that my defense is gonna do their best, and I can just try to get to the balls that get through."
Barah said Free State's defense had improved much since last season.
"Our defensive unit plays collectively really well, and that's from our backs to the goalkeeper," the second-year coach said. "I think our center-midfielders today were tremendous for us, as well, on the defensive end."
Of course, Free State wasn't able to beat the Vikings' defense in the two extra 10-minute periods, either. Sophomore Maddie Dieker got herself in position for a possible scoring chance in the first OT, but couldn't find an opening for a shot on goal. With less than 10 seconds to go in the period, senior Kylee Loneker controlled the ball and tried to beat the buzzer for a win, but her shot went high and wide-right.
The first goal of the night came in the first half, in the 28th minute, when SMW junior forward Sydney Miramontez booted a free kick into the net.
Eight minutes later, Free State sophomore Hadyn Hutchinson tied the match, 1-1, with a shot from the right side, more than 20 yards out.
Vikings senior Chloe De La Pena gave her team a 2-1 lead with a juke move on Auer less than two minutes into the second half, long before Casady sent the match to overtime.
Auer said the only good thing about tying SMW was that it kept Free State undefeated.
"We were really going into this game wanting to win," she said, "and even in overtime we were really pushing for a goal."
Barah, too, said the tie didn't give his team even a moral victory.
At 6 tonight, Free State will play at Lansing.
Copyright 2018 The Lawrence Journal-World. All rights reserved. This material may not be published, broadcast, rewritten or redistributed. We strive to uphold our values for every story published.