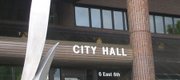 Subscribe to the email edition of Town Talk and we'll deliver you the latest city news and notes every weekday at noon.
News and notes from around town:
• It is as sure a sign of summer as suntan lotion, baseball and 90-degree temperatures in my living room because my wife won't turn the air conditioner on. I'm talking, of course, about the corner hot dog cart in Downtown Lawrence.
Well, I don't know what this says about the upcoming summer, but there will be at least two hot dog carts operating in downtown. (I hope it doesn't mean it will be doubly hot. I'll have to set up Gatorade stations in my house.)
City commissioners have received and approved two applications from street vendors who want to sell hot dogs from a sidewalk stand. Jack's Franks will be selling out of a familiar location — the northeast corner of Ninth and Massachusetts streets — while Hot Rod Hot Dogs will be selling from the middle of the 800 block on the west side of Massachusetts Street.
Jack's Franks will be run by Lawrence resident and former food-service professional Jack Franks. (Boy we dodged a bullet there. Can you imagine what type of stand we would have had if his last name was Liver or Mushypeas?) Franks bought the food cart that formerly was operated by Craig Nowatzke who served hot dogs at the corner for a good many years. In case you missed it, Nowatzke opened Gaslight Gardens at 317 N. Second, a European-style beer garden.
Franks was up and operating last weekend, and plans to be on the corner this weekend, weather permitting. As summer really gets into gear, Franks — whose full-time job is in the local insurance industry — said he likely will hire a couple of young adults to run the stand during some weekday hours.
"I've always wanted to do this," said Franks, who got his start in Lawrence by cooking for sororities and fraternities. "I think every community should have a hot dog cart, and I think it is going to be a great way to meet people."
Ronald Lassiter will be the guy behind Hot Rod's Hot Dogs. Lassiter also hopes to meet many people with his cart. Lassiter is the pastor for young adults at Topeka's Faith Temple Church. He ran a hot dog cart in Downtown Topeka last season, but someone mentioned he likely would get more foot traffic in downtown Lawrence.
"I just want to try to be something good to the community, and just be a light and smiling face for people to see," Lassiter said.
Lassiter — who will sell the Hebrew brand of quarter pound hot dogs along with the traditional ball park frank and bratwursts — plans to be open on Fridays and Saturdays during the day and early evening hours.
• Lawrence Chamber of Commerce leaders are narrowing the field in their search to find a new leader to replace Tom Kern, who left the Lawrence job for a similar position in Steamboat Springs, Colo.
I chatted a bit with John Ross, chair of the chamber board of directors, and plan to talk with Cindy Yulich, chair of the search committee. Ross said chamber officials will be interviewing candidates next week.
"It would be nice to have somebody in place by the end of the second quarter," Ross said.
What I've heard from other sources is that eight candidates have made at least the first round of cuts. Of those eight, I've been told, three are current Lawrence residents who either have some mix of experience with chambers or in government affairs.
It will be interesting to see what type of person the chamber gets to fill the position. I've heard from multiple sources that this search may be a bit different from other searches in that a greater emphasis may be placed on an individual's direct experience with economic development.
The chamber also has its director of economic development position to fill, which became vacant after Beth Johnson took a similar job in Overland Park. But what I've heard is that there is a desire among some for the chamber CEO to be more hands-on with economic development prospects.
That may be particularly true if elected leaders decide to create a change in the community's economic development structure. As we reported over the weekend, new mayor Bob Schumm said he expects significant discussion in the next few months about creating a new economic development "consortium" made up of representatives from the city, the county, the chamber and Kansas University. Indications are that the chamber CEO would be expected to be a key leader for that group.
• Speaking of leaders, I'll cut Town Talk a bit short today because I have to go speak to the leaders of tomorrow today. (Now, I'm getting confused.) Anyway, I'm on a panel that is speaking to graduate students in the public administration program at KU who want to learn how to deal with the media. It is a two-hour panel. I don't get it. It won't take that long to say: "Tell us everything we want to know." That's how you should always deal with a reporter.
Copyright 2018 The Lawrence Journal-World. All rights reserved. This material may not be published, broadcast, rewritten or redistributed. We strive to uphold our values for every story published.