Photo Gallery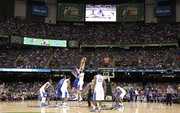 Kansas v. Kentucky (National Championship)
Photo Gallery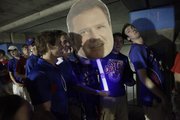 Pre-game outside the Superdome
KU and Kentucky fans gather at the Superdome and take shelter in the underground parking during a storm before the NCAA Men's Basketball Championship game, Monday, April 2, 2012.
Photo Gallery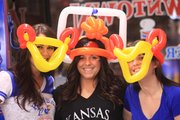 Highs and lows: Jayhawk fans watch the game in Lawrence
Press Conferences & Post-Game Interviews
Kentucky coach John Calipari and players
Kentucky coach John Calipari and players Michael Kidd-Gilchrist, Doron Lamb, Anthony Davis, Terrence Jones and Darius Miller talk to reporters following the Wildcats' 67-59 victory over Kansas on April 2, 2012, in the national championship game in New Orleans.
Press Conferences & Post-Game Interviews
Bill Self, Tyshawn Taylor and Thomas Robinson
Kansas coach Bill Self, guard Tyshawn Taylor and forward Thomas Robinson talk to reporters following the Jayhawks' 67-59 loss to Kentucky on April 2, 2012, in the national championship game in New Orleans.
New Orleans — During Monday night's 67-59 victory over Kansas University in the national championship game at the Superdome, Kentucky center Anthony Davis shot 1-for-10, finished with just six points and was the best player in the game.
And it wasn't even close.
Despite being held scoreless in the first half and struggling to find his rhythm on offense all night, Davis impacted the game in more ways than anyone else and helped lead the Wildcats to their eighth NCAA championship and first since 1998. But it was a few words from his coach at halftime that made sure of that.
"At halftime, I knew he didn't have a point. Before he left the locker room, I said, 'Listen to me, don't you now go out and think you have to score,'" said UK coach John Calipari, who finally finished the season on top. "I said, 'Don't worry about it. You were the best player in the building.' And then I think he went and shot the first three balls."
"I was open," Davis said.
"I know why you were open," Calipari said with a smile. "You were 1-for-10. They were leaving you open."
If that was the case, it was the only way in which the Jayhawks (32-7) found an advantage against Davis, the 6-foot-10 freshman and Final Four's Most Outstanding Player. He finished with 16 rebounds, six blocks, five assists and three steals, each seemingly coming at a crucial moment.
Once, with the Jayhawks trying to mount a comeback, KU forward Thomas Robinson (18 points, 17 rebounds) ripped a one-handed rebound out of the air after a missed shot by Davis. As Robinson held the ball by his hip, Davis poked it out from behind, and teammate Terrence Jones (nine points, seven rebounds) scooped it up for a rim-rattling dunk.
Davis' six blocks gave him 29 for the tournament, which was two behind KU junior Jeff Withey, who had 31 in this year's tourney. Withey eclipsed the mark put up by former Florida star Joakim Noah, who had 29 blocks during the 2006 tournament. Both Davis and Withey also blocked 11 shots in the Final Four, tying Noah's output in 2006.
"I said this (to Davis) about a month ago," recalled Calipari, asked about Davis' impact. "'What do you do to help us win when you are not scoring baskets?' And he does about 50 things."
While Davis' performance — both Monday night and throughout the season — no doubt will go down in Kentucky basketball lore, Calipari said he and his team understood that their victory over Kansas was about much more than one title. It was about adding to the program's legacy and bringing joy back to Lexington, Ky.
"We did this for them, too," Calipari said of the UK fan base. "We know what it means to them."
As for what the victory meant to Calipari, he refused to make it about him or bask in the glow of his accomplishment.
He gave the credit to his players.
"We were not just a talented team, we were a defensive team and a team that shared the ball, and I wanted everyone to see it," Calipari said. "I told them I wanted this to be one for the ages. 'Go out there and show everyone what kind of team you are.'"
Copyright 2018 The Lawrence Journal-World. All rights reserved. This material may not be published, broadcast, rewritten or redistributed. We strive to uphold our values for every story published.