Photo Gallery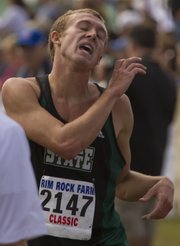 2011 Rim Rock Classic
Whether junior Gavin Fischer knew it or not, he was six spots away from medaling for Lawrence High on Saturday at the Rim Rock Classic.
Even if he did know, he had nothing left to push himself into the top 25 of the Boys 5K Gold Varsity race.
"I was really trying at the end," Fischer said. "I was giving my all either way."
He set a new personal record, which was his goal. He wasn't worried about place and ran a 16:35, finishing first for Lawrence High and 31st overall.
The LHS boys took 14th place out of 34 teams.
Second for LHS was senior Reid Hildenbrand, who finished 75th out of 244 at 17:06. Senior Zach Andregg wasn't far behind with a 17:08, finishing in 80th.
On the girls side, junior Grace Morgan paced the Lions with a 16:44 and a 67th-place finish, but it wasn't the PR she wanted going into the race. Last season, she ran Rim Rock in 16:30.
"I think I held back a little more than I should have," Morgan said.
The Lions girls finished in 22nd place out of 27 teams.
Morgan said the end of the race was better than the beginning because the girls were elbow-to-elbow and fighting for position at the start. As the race progressed, the runners spread apart and opened up more room on the path.
"It's hard because you're all packed together," Morgan said about the first half of the course. "It's a different race."
Senior Michala Ruder was the second Lion to finish, coming in 77th at 16:53.
LHS coach Brian Anderson was iffy about the results, with some runners doing well and the others not so well. The biggest bright spot of the day was junior Chester Lewis, who stepped up from JV to run the Varsity race. He ran an 18:04, which was a monster improvement from his previous time of 19:40, a personal record at the time.
LHS will participate in the Sunflower League Meet in two weeks at Rim Rock.
Copyright 2018 The Lawrence Journal-World. All rights reserved. This material may not be published, broadcast, rewritten or redistributed. We strive to uphold our values for every story published.