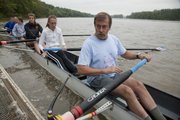 After trying it out for a day, the general consensus among the 20 or so graduates of a community rowing clinic sponsored by Kansas Athletics and the city of Lawrence was that the sport's a little harder than it looks.
Tom Hayes, a former college football player whose daughter competes on Kansas University's rowing team, participated and said he found rowing to be harder than football. After all, he said, in football at least you get a break after every play.
The group was coached along by Kansas University rowers, graduate assistants and Jennifer Myers, KU's assistant rowing coach.
"Arms, back, legs," she called out, telling the novice rowers which body parts to bend and in what order. "Legs, back, arms."
"Do we get a life jacket?" one participant wondered before the group shoved off into the Kansas River for the first time.
Yes, he was assured, coaches and other helpers would be nearby with life jackets. And the river was pretty shallow in the spots where they were rowing, anyway.
Everyone did get a blue T-shirt that proclaimed "I learned how to row on the Kaw."
Fortunately, the event went off without any major water rescues. The program attracted interest from all sorts of people, both young and old.
Kat LaFever, a freshman at Free State High School, said her mother encouraged her to try the new sport
Greg Bien of Lawrence said he signed on to get exposure to a new kind of exercise and to see whether he could sell his granddaughter on participating in the program at KU.
Myers said this was the second year for the program, and the team helped out to spread awareness and respect for rowing and to give community members a chance to try the sport. Participants did well, she said, and now they're a member of a pretty small family of people who know how to row competitively.
Stuart Beals, a Lawrence resident, said he was hooked and hoped Lawrence might start a rowing club soon.
"It might be the ultimate team sport," he said. "It matters a lot more that you row together than you row hard."
Copyright 2018 The Lawrence Journal-World. All rights reserved. This material may not be published, broadcast, rewritten or redistributed. We strive to uphold our values for every story published.