Topeka — About 250 people on Friday rallied at the Capitol, upset with Gov. Sam Brownback's agenda and vowing to do something about it.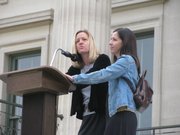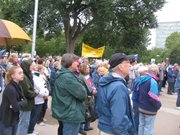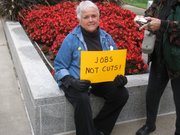 "Our Kansas way of life is in jeopardy," said Crystal McComas of Lawrence. McComas, a social worker, and Tamara Werth, a psychologist from Lawrence, organized the event to protest recent Brownback decisions.
They formed a group called Kansans United in Voice & Spirit and said they hoped the rally would initiate local chapters across the state.
Speakers at the rally criticized Brownback, a Republican who took office in January, for cutting public schools, social services and the arts.
Mark Desetti, a lobbyist for the Kansas National Education Association, said Brownback's cut of $232 in base state aid per student amounted to a nearly $110,000 cut to Quail Run Elementary school in Lawrence.
He asked how cuts like those across the state would affect schools' abilities to replace textbooks, hire teachers and para-professionals. He said the state has shed nearly 1,300 teacher positions and 935 support personnel between the 2008-9 and 2010-11 school years.
And he warned that Brownback's plan to cut income taxes would further erode the state's ability to pay for needed services. "The state will have no choice but to enact massive cuts," he said.
Brownback has defended his budget cuts as necessary in tough economic times. And he says reducing the state income tax would attract more businesses to Kansas and grow the economy.
Diana Gibson said budget cuts and policy changes under Kansas Department of Secretary Robert Siedlecki Jr. have hurt her 85-year-old uncle who is a World War II combat veteran.
Gibson said her uncle lives with her brother and sister-in-law in south-central Kansas and receives home-based care with her sister-in-law being designated as the caretaker.
But the state has cut the hours of care from 34 hours per week to 7 hours per week and doesn't want the sister-in-law to be the provider, she said. The state has said they will pay for the elderly man to go into a nursing home, which will cost three times as much than if he stayed at home, she said. But her uncle wants to stay home, she said.
"In less than nine months, they (the Brownback administration) have pretty much destroyed the program," she said.
John Divine of Salina, and former chairman of the Kansas Arts Commission, said Brownback's veto of funding for the arts has sent a negative message throughout the country.
The message is, he said, "If you want to be creative, go to Colorado, go to Nebraska, go to Missouri. Don't come to Kansas."
Brownback has said arts funding is not a core function of state government, and the funding loss can be made up through private donations.
Douglas County Commissioner Nancy Thellman, who attended the rally, said of Brownback, "He is not representing Kansas values."
Thellman agreed that the state economy was in tough shape, but said Brownback's moves were part of his "commitment to corporate America."
In response to the rally, Brownback's spokeswoman Sherriene Jones-Sontag said, "In the past eight months, Kansas has added more than 13,000 private sector jobs and turned a budget deficit into a $100 million surplus, but there's still a lot of work to do."
Total unemployment, however, has increased. The Kansas jobless rate increased in August for the first time in more than two years, going from 6.8 percent in July to 6.9 percent.
Copyright 2018 The Lawrence Journal-World. All rights reserved. This material may not be published, broadcast, rewritten or redistributed. We strive to uphold our values for every story published.