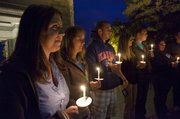 They stood in silent vigil for 176 seconds — one for every victim of sexual assault GaDuGi Safe Center helped last year.
Most quietly reflected.
A few spoke of the pain they felt for their loved ones, survivors of abuse — one woman's cousin, one woman's childhood best friend, one man's mother.
About 20 people gathered in front of the Campanile on Kansas University's campus Thursday night for a candlelight vigil, part of the awareness week organized by the Emily Taylor Women's Resource Center.
Many spoke of the need to break the silence in order to help prevent further assaults.
Anthony Ungaro, a KU graduate student, talked about the need for men to understand and work to prevent sexual assault.
Sonja Heath, assistant director of the Emily Taylor Women's Resource Center, said that the event was meant to honor those struggling with the aftermath of sexual assault, as well as give a venue for sharing stories.
The sexual assault awareness week is usually held in April, but staff at the center decided to hold the event in September because "we didn't want students to go almost an entire year" without exposure to information they provide on prevention of sexual assault, which affects 1 in 4 women by the age of 22, Heath said.
Toward the end of the vigil, one woman spoke about the candles as a symbol for her painful experience as a victim, which, she said, is getting better with the support she has received.
"I was living in darkness," the woman said. "But someone eventually showed me light."
Copyright 2018 The Lawrence Journal-World. All rights reserved. This material may not be published, broadcast, rewritten or redistributed. We strive to uphold our values for every story published.