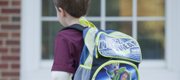 Subscribe to the email edition of First Bell and we'll deliver you the latest local education news and notes every weekday at noon.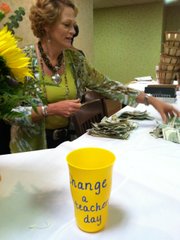 A fund to help teachers defray their inevitable middle-of-the-year expenses for school supplies is off to a good start.
Filled by on-the-spot donations during the Community Education Breakfast on Aug. 6, the fund set up by the Lawrence Schools Foundation now has $1,832.44. The fund — started by the event's more than 550 attendees putting cash into yellow cups on their tables at the Holiday Inn Lawrence — will be used to help teachers buy supplies for their classrooms and for students who need them once their initial supplies run out and otherwise couldn't afford to get new ones.
Anyone interested in contributing to the cause may contact the foundation at 330-2790 or email sesau@usd497.org. More information is available at LawrenceSchoolsFoundation.org.
•••
It's been another record year for the Community Education Breakfast.
The Aug. 26 event generated $86,725 in donations for the Lawrence Schools Foundation, which has been running the annual event for the past 10 years. More than 550 people attended.
The money helps finance foundation efforts, such as providing monetary awards for teachers, grants for some of their programs and assistance for some of their current and future students, through financing for the district's early-education program at Kennedy School.
"We are thrilled that the event was so successful and that this community continues to step up and support public education," said Susan Esau, executive director for the foundation and Lawrence Education Achievement Partners.
Last year's breakfast generated a then-record $72,000.
•••
Next year's breakfast will include a few inevitables: The Free State and Lawrence high school bands playing their respective fight songs, along with the national anthem. A Lawrence school district leader will review past efforts and offer glimpses into programs in the works and issues facing education.
Not yet determined: who will be the event's keynote speaker.
Such speakers are alumni of the district who typically have gone on to success. This year's speaker was David Booth, a 1964 graduate of Lawrence High School who is chairman and co-CEO of Dimensional Fund Advisors, and perhaps best known in these parts as the purchaser of James Naismith's original rules of "Basket Ball" at auction for $4.33 million.
Previous speakers include Alan Mulally, a 1963 graduate of LHS and president and CEO of Ford Motor Co.; Mark Dominik, a 1989 LHS graduate and general manager of the Tampa Bay Buccaneers; Brian McClendon, a 1982 LHS graduate and executive at Google Inc.; and Chuck Mead, a 1979 LHS graduate and lead singer for BR549 and other groups.
Anyone have ideas for folks who could be invited back to entertain a crowd of 500 to 600 people over breakfast? I notice that there haven't been any Free State Firebirds on the list yet — something that will be sure to change, as the school's graduates continue to make their collective marks...
Copyright 2018 The Lawrence Journal-World. All rights reserved. This material may not be published, broadcast, rewritten or redistributed. We strive to uphold our values for every story published.