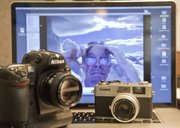 I've decided that the next camera I purchase will be my dream camera.
I may have to spend a considerable amount of money, but I'm determined to own a camera that will have everything I will ever need. It will be very well built, last many years and I will never regret the purchase.
Right now, I'm getting tired of reading about all the new cameras and advances in technology each month. I figure if I settle on one really good camera, then I can quit worrying about all others and get about the business of taking photographs. Yes, the Journal-World supplies me with nice cameras, but using them outside of work can be like taking an electric guitar to a bluegrass jam. It's not necessarily my instrument of choice and it's not my guitar anyway.
But, here's the problem. It's known as digital depreciation or "digital rot," as written about recently by well-known photo blogger Ken Rockwell. Because digital camera sensors keep improving, cameras purchased today are quickly outdated.
Film cameras, on the other hand, are metal boxes, with mostly mechanical parts, built to last and very reliable. Some models don't even require batteries. Improvements to film cameras come from advances in lens design and film emulsions. I believe many photographers would agree that if you shot a roll of 100 ASA film through a good film camera from the 1960s today, you could get results comparable to current high-end digital cameras. In fact, with film improvements, you'll probably get better results from that Nikon F than you could in 1960.
Film cameras hold their value, their digital counterparts do not. Consider that when the Journal-World invested in our first professional digital camera, the Nikon D1, it retailed for $5,500 and had a file of only 2.74 megapixel. Ebay has one on sale today for $294.00. Compare that to an old film camera, like the famous Nikon F, with a list price of $359.50 in the '60s. There's one currently on eBay for $700. But honestly, I doubt if many of us care to go back to film cameras. Digital camera gains in auto-exposure, auto-focus, low-light sensitivity and the ease of working with your photos on a computer are conveniences we won't live without. So we're left with digital rot and the acknowledgement that digital cameras have a short life span, just like computers.
To avoid the restless cycle of worrying whether your camera is still good enough or wondering when to buy that next new camera, it really comes down to your needs. Whatever your choice in camera, if it satisfies your needs today, there is no reason it can't meet your needs in the future. Meanwhile, I'm daydreaming about my next camera because I've finally decided which one to buy. I just haven't purchased it yet. I heard rumors last week that the manufacturer is planning a Dream II model. I think I'll go grab my acoustic guitar and sing the blues.
Copyright 2018 The Lawrence Journal-World. All rights reserved. This material may not be published, broadcast, rewritten or redistributed. We strive to uphold our values for every story published.