Kansas University junior basketball forward Thomas Robinson posed for pictures and signed autographs for hordes of female fans who attended Thursday's "Ladies Night Out With Bill Self" in Allen Fieldhouse.
Robinson had a big smile on his face at 8:30 p.m. — three hours after exiting the court in great pain — after suffering a hyperextended left knee at practice.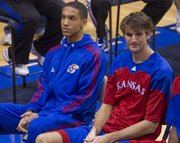 Photo Gallery
Ladies Night Out with Bill Self
"It was scary. He went after a loose ball with two people colliding into him," said KU coach Self, elated that an MRI showed no structural damage.
Robinson is expected to miss just a couple days of practice and has not yet been ruled out of Tuesday's 7 p.m. exhibition game against Pittsburg State.
"They (doctors) think he should be back, but we're not going to bring him back too quickly. We anticipate him being able to play, (but) a lot depends how he reacts, how he responds (to treatment). He will take a couple of days off to let it calm down but hopefully will not miss any significant time," Self added.
Meanwhile, Self announced that KU sophomore Anthony West, a 6-foot-6 forward out of Shawnee Mission East High, is practicing with the team as a walk-on hopeful.
"He went through (Tuesday's) walk-on tryouts," Self said. "He impressed us. He will be part of the practice squad right now, that's it. We'll evaluate him as we go forward."
West, one of the KU students who practiced against the KU women's team last year, received a taste of what it's like to be a Jayhawk men's player Thursday. He was mobbed for autographs from the 450 women at the event.
In fact, the first question in a Q-and-A with the players was directed to the walk-on hopeful.
"I had one offer from Cornell (his senior year of high school) and Div. II and III offers, but Kansas is where I always wanted to go," West said. "I chose Kansas because I fell in love with the campus, the people and atmosphere.
"I am very grateful for this opportunity," added West, who attended SM South three years before moving over to East.
What will it take for him to make the team?
"I think just dedication and hard work," West said. "I think you have to be a helpful guy and versatile and be willing to do whatever they are looking for."
Recruiting changes: The NCAA on Thursday altered some recruiting rules. The new model, recommended after a year of study by the Leadership Council, restores two weekends of recruiting at nonscholastic events in April and trims the summer recruiting period to three, four-day periods in July, instead of most of the month.
"I think it's great we got April back," Self said. "I'll have to reserve judgment on July to see how it plays out. From my standpoint, those will both be positive rule changes."
Larry, Larry: Former KU coach Larry Brown, a member of the Naismith Memorial Hall of Fame, attended the Ladies Night Out festivities. He will be a guest speaker today during Day One of the Bill Self KU coaches clinic for high school, junior-college and small-college coaches.
One attendee noted the fact ESPN's Fran Fraschilla said Wednesday that Self is a lock to join Brown in the Hall.
"I read that today. I think my mom wrote that perfectly," Self cracked. "There's only one Hall of Fame coach in here, and he's standing over there," Self added of Brown.
Ladies Night: The 450 women watched a highlight video of Jayhawk basketball history, took part in a Q-and-A with Self and the players, a session on fundamentals as well as speeches by associate AD/academic counseling Scott Ward and strength coach Andrea Hudy. Self and Brown answered questions for over an hour in Hadl Auditorium. Players and coaches signed autographs as well. Proceeds went to fund cancer research. "This is for a great cause," Self said. "The event sold out in about 36 hours, so that means we will be able to generate close to $40,000 for cancer research."
Copyright 2018 The Lawrence Journal-World. All rights reserved. This material may not be published, broadcast, rewritten or redistributed. We strive to uphold our values for every story published.