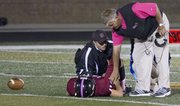 Lawrence High junior quarterback Brad Strauss hobbled his way into the bleachers at Tuesday's soccer game, wearing a black boot on his left foot. The good news for Lions fans was that he was walking by himself, but he wasn't in any shape to break off long touchdown runs.
It turns out that the injury he sustained in Friday's loss to Olathe Northwest was only a sprain, but Strauss still has a noticeable limp.
He said Tuesday that if all goes well the next couple of days, he wouldn't rule out playing against Free State at 7 p.m. Friday, Oct. 28.
Copyright 2018 The Lawrence Journal-World. All rights reserved. This material may not be published, broadcast, rewritten or redistributed. We strive to uphold our values for every story published.