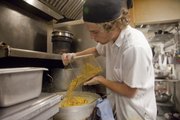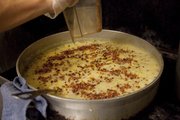 On the street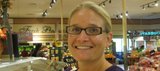 Homemade chili — it's social, like for tailgating.
There may be fewer words in the English language that can be associated with the season of winter than "snow," "holidays" and "chowder."
And though it's hopefully weeks, if not months, away from snow or any especially stressful holiday, chowder is something you can embrace the second there's a chill in the air.
Even if that chill is from your air conditioner.
Basically, chowder is a soup with a cream base that may or may not be thickened with roux — a cooked mixture of flour and fat, usually butter. The finished "chowder" effect is one of those "I know it when I see it" sort of things that allows the term to cover soups based on everything from corn to clam to tomatoes with continuity and without confusion.
"I think of stew as big chunks, it's all in how you cut those vegetables. A chowder would have smaller, diced potatoes instead of, like, big quarters or something of potato," says Garth Atchison, kitchen manager at Wheatfield's Bakery and Cafe, 904 Vt., which serves a roasted corn chowder. "I think, in general, that's how I would make the distinction between stew and chowder."
Distinction observed, chowder is so pervasive in the comfort food canon that just the name spawns a warm cozy halo around anyone in ear shot. That reputation is part of the reason Nancy O'Connor, director of education and outreach at The Merc, 901 S. Iowa, came up with not one but two versions — one for summer and one for winter — for her "Rolling Prairie Cookbook." She says though she loves the summer version, thickened with zucchini, and the winter version, a mixture of potatoes, corn and cheese, has a particularly staunch following.
"It's so homey," she says of the Potato, Corn and Cheese Chowder. "When I think of chowder, I think more of comfort food, and that combination of corn and potatoes. I've probably made that recipe more than any recipe in the 'Rolling Prairie Cookbook' and I hear other people tell me that, too."
If you're going to go do a chowder with a meat base, Atchison notes to make sure you render the fat down nicely to get that smooth-yet-thick chowder consistency.
"Cook the fat first, so you don't have big (chunks) and that goes with any sort of meat-based soup. Make sure your meat has been browned and you've changed that fat, because once you add water to it, it's not really going to dissolve. So, you need to cook that fat down," Atchison says. "You can then take some out if you want, so if you don't want it as fatty, you could make your soup lighter that way."
Potato, Corn and Cheese Chowder
3 medium potatoes, scrubbed and diced
3 cups water
1 bay leaf
1/2 teaspoon salt
1 tablespoon canola oil
1 medium onion, finely chopped
3 tablespoons unbleached white flour
1 1/2 cups low-fat milk
1 1/2 cups corn kernels (fresh or frozen)
1/2 teaspoon ground cumin
1 tablespoon fresh chives, chopped (or 1 teaspoon dried chives)
1/4 cup chopped parsley
Scant 1/4 teaspoon ground nutmeg
1/4 teaspoon black pepper
4 ounces reduced-fat cheddar cheese, grated
Boil diced potatoes in water with bay leaf and 1/4 teaspoon salt until barely tender. While potatoes are cooking, sauté onions in oil over medium-low heat until tender and nearly transparent (add a few tablespoons of water if onions start to stick). Add flour to sautéed onions and mix thoroughly. Add milk gradually, stirring constantly. Pour this mixture slowly into the cooked potatoes and their water, along with the corn kernels. Add cumin, chives, parsley, nutmeg, the remaining 1/4 teaspoon salt and pepper. Let the soup simmer over very low heat for approximately 15 minutes. Add in the grated cheese and stir until completely melted. If chowder seems too thick, thin with milk or water. Serve immediately. Serves four.
— Recipe from "Rolling Prairie Cookbook" by Nancy O'Connor.
Summer Chowder
1 tablespoon canola oil
1 large onion
1 cup chopped celery
2 to 3 small zucchini or yellow squash, sliced in 1/2-inch-thick slices, then cut in half
1 large potato, cubed
2 tablespoons flour
3 cups water or stock
1 bay leaf
1/2 teaspoon salt
1 cup corn kernels, fresh or frozen
2 tablespoons chopped fresh parsley
1/8 teaspoon grated nutmeg
Scant 1/4 teaspoon crushed thyme
1/4 teaspoon ground cumin
1 cup low-fat milk
1 cup grated reduced-fat cheddar cheese
Black pepper to taste
Heat oil in soup pot over medium heat. Add onion, celery, squash and potato and sauté for 5 minutes. Sprinkle flour over vegetables and stir until lightly coated. Add water or stock to pot along with leaf and salt. Bring to a boil, lower heat to simmer sand cook, covered until vegetables are tender, approximately 15 minutes. Add the corn, parsley, nutmeg, thyme and cumin. Simmer 5 to 10 minutes. Slowly add the milk, then cheese, stirring constantly until cheese is melted. Season liberally with black pepper and serve at once. Serves 6.
— Recipe from "Rolling Prairie Cookbook" by Nancy O'Connor.
Hearty Italian Chicken Chowder
1/4 cup Italian dressing
1/2 pound boneless skinless chicken breasts, chopped
1 can (14-1/2 ounces) stewed tomatoes, undrained
1 cup fat-free, reduced-sodium chicken broth
1 zucchini, chopped
1/2 cup elbow macaroni, uncooked
1 teaspoon dried basil leaves
1/2 cup shredded mozzarella cheese
Heat dressing in large saucepan on medium heat. Add chicken; cook 3 minutes, stirring once.
Add tomatoes, broth, zucchini, macaroni and basil. Bring to boil on high heat.
Simmer on medium heat 8 minutes or until macaroni is tender. Sprinkle with cheese.
Substitutions: Use whole wheat elbow macaroni as an easy way to add fiber in this recipe. Substitute 2 cups broccoli florets for the zucchini.
— Recipe from www.kraftrecipes.com
Rainbow Chowder
6 cups stock
2 slices ginger
1/4 pound napa cabbage cut into 2 x 1/2 strips
1/2 onion julienned
1/2 cup organic carrot — julienned
2 stalks organic green onions cut into strips
1/2 cup bean sprouts
1/4 cup mushrooms, sliced
3 dried black mushrooms, soaked and julienned
1/4 cup water chestnuts sliced
1 1/2 teaspoons sesame oil
2 1/2 tablespoons cornstarch paste (1 part cornstarch, 2 parts water, thoroughly stirred)
1 dash white pepper to taste
Bring soup stock and ginger to a boil; cook for 1-1/2 to 2 minutes, then discard ginger.
Add the napa cabbage, onion and carrot to the broth.
Cook for 2-1/2 minutes.
Add the remaining ingredients, except the cornstarch solution, and cook for 1 minute.
— Recipe from www.melissas.com.
Wisconsin Cheese Chowder
1 tablespoon oil
1/4 pound (4 ounces) turkey kielbasa, coarsely chopped
2 medium carrots, thinly sliced
1 large onion, thinly sliced
1 red or green pepper, chopped
1/3 cup flour
1/8 teaspoon dry mustard
5 cups chicken broth
2 cups shredded sharp cheddar cheese
Heat oil in medium saucepan. Add kielbasa, carrots, onions and peppers.
Cook until vegetables begin to soften, stirring occasionally.
Stir in flour and mustard until well blended.
Stir in broth gradually. Reduce heat to low; simmer 10 minutes, stirring occasionally.
Add 1/3 cup of the cheese; cook until completely melted, stirring constantly. Repeat with remaining cheese, adding in two separate batches. (Do not allow chowder to boil.)
— Recipe from www.kraftrecipes.com.
Copyright 2018 The Lawrence Journal-World. All rights reserved. This material may not be published, broadcast, rewritten or redistributed. We strive to uphold our values for every story published.