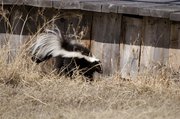 What to do if sprayed
If you get sprayed by a skunk, skip the tomato juice, vinegar, etc.
Instead, mix:
1 quart 3 percent hydrogen peroxide
1/4 cup baking soda
1 teaspoon liquid soap
Saturate the animal, clothing, etc. that has been sprayed, then rinse. Do not store this solution as it may expand and break sealed containers.
There are also commercial products available such as Neutroleum Alpha.
In addition to putting fear in the hearts of full-grown men and women, skunks sometimes cause problems in the urban landscape.
Striped skunks, the most common species in Kansas, dig holes in lawns and gardens in search of insects to eat and sometimes burrow under porches and buildings for shelter. They may tear into the garbage, kill chickens and destroy beehives. Striped skunks are also the primary carriers of rabies in the Midwest.
Skunk inquiries come to the horticulture hotline less frequently than ants and dead pine trees, but the questions are urgent when they arrive. The most common calls are about skunks under porches and buildings. Because prevention is easier than removal, keep foundation openings sealed. Wire mesh or sheet metal can be used to seal openings and window wells.
Sealing off any under porch and crawlspace openings is a bit easier said than done, but do you really want to take a chance of a skunk moving in under your house? In my experience, I knew I had a problem with a critter trying to create a den in my crawlspace. Silly foxes or maybe a stray cat, I thought. I didn't worry too much about the critter until the day I came eye-to-eye with a skunk who was a little upset about being barred. Luckily, my dog and I both escaped from being sprayed.
After the opening was successfully sealed, the skunk has stayed away. If a skunk does try to share your residence, some professional pest control companies will remove them for you. Your other options are limited to: waiting for it to leave; trying to scare it away (if you dare); moth balls, moth flakes, or ammonia-soaked cloths used as a repellent; fumigants; or trap it yourself.
When skunks dig holes in the yard, they are looking for food. You may have a high population of grubs or other insects. Since skunks are nocturnal, you may never actually see them. If they are causing extensive damage, you may wish to use a grub control product on the lawn.
If skunks get into the trash, switch to a container with a tightly-fitting lid. Use wire mesh to exclude them from chicken houses, and keep beehives three feet off the ground where skunks are problematic.
If, by chance, you see a skunk that has spots instead of stripes, contact the Kansas Department of Wildlife and Parks. Eastern spotted skunks are a protected species in Kansas. Spotted skunks are sometimes called civet cats.
If you decide to try trapping, property owners and occupants are allowed to remove skunks that are causing damage from their property. Otherwise, skunks are protected by furbearing hunting and trapping regulations.
Box traps are best for skunks and a variety of styles are available or you can make your own. Leghold traps should never be used for skunks because of the spray issue. Box traps should be about 12 inches wide by 12 inches tall by 36 inches long. If made from a see-through material such as wire mesh, cover the trap with burlap or canvas before setting it.
Set traps near the area where the skunk is entering and exiting the structure. Cat food and canned fish work as bait but may also catch some of the neighborhood cats. Dried fruit, peanut butter, mayonnaise, honey and molasses placed on bread are more likely to attract skunks than innocent kitties.
In the small, dark trap, skunks are unlikely to spray but captured skunks should still be approached with caution. Please remember if you choose to trap a skunk you will need to dispose of it, and re-location is not the best answer. Even a healthy-looking skunk may be infected with rabies that you would then transport to a new location. Kansas State University recommends placing a tarp or plastic sheet over the trap, sealing the edges with soil, and piping in carbon dioxide gas from a pressurized cylinder or using dry ice which emits carbon dioxide.
Copyright 2018 The Lawrence Journal-World. All rights reserved. This material may not be published, broadcast, rewritten or redistributed. We strive to uphold our values for every story published.