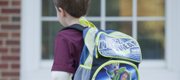 Subscribe to the email edition of First Bell and we'll deliver you the latest local education news and notes every weekday at noon.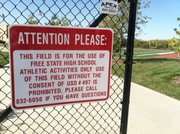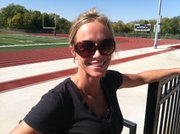 A new sign is reminding visitors of a long-standing policy at the stadium at other athletics venues at Free State High School.
The sign, installed this past weekend, is affixed to a gate that provides access to the football field, track and more at the school, 4700 Overland Drive:
ATTENTION PLEASE:
THIS FIELD IS FOR THE USE OF FREE STATE HIGH SCHOOL ATHLETIC ACTIVITIES ONLY. USE OF THIS FIELD WITHOUT THE CONSENT OF USD #497 IS PROHIBITED. PLEASE CALL 832-6050 IF YOU HAVE QUESTIONS.
I called the number, which rings at the front desk at Free State, and ended up talking with Mike Hill, the school's athletic director.
His first note: The sign should say "fields," because the gate controls access to several venues at the school.
"It was a misprint," he said. "It applies to every field out there."
Second: The sign may be new, but the policy is long-standing and in effect districtwide.
"You'll find them all over the district," he said.
Third: The school has no intention of preventing people from using the track to run or walk, or for running stairs or other fitness-related pursuits.
"That's why we don't lock the gates — so walkers have access," he said. "That's why we keep the gates open."
It's just that the school needs to keep track of who uses the field — OK, fields — at the school, so that they don't become overused, damaged or lead to conflicts over who should be on a given field at any given time.
"We're happy to let the public use the facilities," Hill said. "We just have to be able to manage it."
School teams need the space to practice and compete, after all, and scheduling is a major concern.
"We want to be able to host folks at our facilities," Hill said. "It's just a matter of who and when."
Hill recently signed off on a permission form for a youth football team to use the field, and last month the field played host to a charity flag football game pitting personnel from Lawrence police and Lawrence-Douglas County Fire Medical.
"We're getting to the stage where we're getting overwhelmed by requests," Hill said. "You just can't have everybody coming out willy nilly.'
Sara Moreano, who visits the stadium twice a week to work out, hadn't noticed the sign Monday afternoon but said she'd heed whatever rules were in place.
She typically runs and walks for an hour each time, her trips around the track interrupted by treks up and down the Versa-lok stands — taking steps two at a time on the east side, then running up each of the eight rows of 39 steps on the west side.
She used to run stairs at Memorial Stadium, but sought out another place when Kansas University halted public access a few years ago.
"It's a nice facility," said Moreano, who has two kids at Free State. "I'll do this in compliance with whatever they say: If they say don't do it, I won't do it."
But Hill isn't saying that. On the track and stairs, he says, go ahead and do it.
On the field or any of the fields? Better ask first.
•••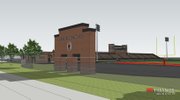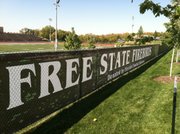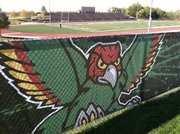 Both Free State and Lawrence high schools continue to count on boosters to bolster their respective athletics complexes.
This past Friday, members of LHS Building on Traditions celebrated completion of a campaign to finance upgrades to the complex at 19th and Louisiana streets, including installation of new ticket booths and upgrades to a scoreboard at the north end of the stadium.
This season, at Free State, a new wind screen has been installed along the chain-link fence at the football stadium, proclaiming it as the home of the Firebirds.
"Hopefully at some point we'll get all the facilities done in that matter," said Hill, who estimated that the new screen had cost a few thousand dollars.
•••
Parents, students and other supporters of South Middle School and Southwest Middle School have a chance to grab a bite and help out the schools Tuesday afternoon and evening.
Teachers and administrators will be working the drive-through, making fries, sweeping floors and greeting customers at two McDonald's restaurants in Lawrence, part of the annual McTeacher Night at participating locations in Kansas and Missouri.
Last year, South received $1,250 and Southwest received $1,000 through the event, in which the restaurants donate a percentage of their sales to the schools when teachers and administrators are working.
Today, school personnel will be working shifts during a four-hour period, from 4 p.m. to 8 p.m., as follows:
• South Middle School: McDonald's, 901 W. 23rd St..
• Southwest Middle School: 4911 W. Sixth St., at Sixth and Wakarusa Drive.
The schools receive the donation and are able to use it for school needs, said Patrick Manning, a spokesman for McDonald's of Lawrence, which is partnered with the schools through the Lawrence Education Achievement Partners program.
Copyright 2018 The Lawrence Journal-World. All rights reserved. This material may not be published, broadcast, rewritten or redistributed. We strive to uphold our values for every story published.