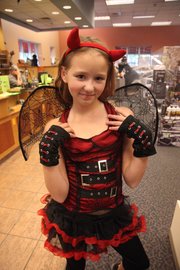 The undead are going to be popular again this year on Oct. 31.
But before you go scrabbling around to find those Edward Cullen canines for yet another go-round, hold on. The undead this year aren't nearly as handsome, icy or blood thirsty.
They just want your brains.
Or maybe your flesh, depending on which urban legend you're following.
The humble zombie, the step-corpse of those oh-so-modelesque vampire, is the only Halloween costume that is a for-sure bull's-eye this season for both adults and kids.
"Vampires were big last year because of the 'Twilight' movies and that kind of thing, but I think we bought in more zombie stuff here even more than vampires," says Colleen Lignell, customer consultant for Party America, 1441 W. 23rd St.
The owners and workers at Halloween Express, 700 N.H.; Fun and Games, 830 Mass.; Wild Man Vintage, 939 Mass.; and Arizona Trading Co., 736 Mass., all concurred with Lignell that the rotting undead are most definitely the most popular with a month left before Halloween.
Kyle Billings, owner of Fun and Games, says that it could be the popularity of TV shows like "The Walking Dead," or because being a zombie is cheap and customizable. Either way it's popular.
"The good thing about that is you're not trying to be something specific. So, if there's four zombies where you're going you're going to look different than the others. Whereas, if there's four Batmans, you're all going to look the same," Billings says. "So I think a lot of people kind of try to gravitate toward those sort of things that they can kind of specialize a little bit or do something a little bit different."
That said, if shuffling around in dried blood isn't exactly your thing, there are several other possibilities out there that are new and fresh, and sure-to-be popular.
Angry Birds
The addictive iPhone game has spawned versions for multiple game platforms, a board game and a possible animated series. Not surprising then, that it's a costume many in the industry think will be a winner.
"Angry Birds will be popular this year, probably with both (kids and adults)," says Gene Brake, owner of Halloween Express. "We actually sold a kids party that was an Angry Birds party, and adults will see it because it's on everybody's new phones, I think they'll like it."
Superheroes
The Green Lantern and Captain America are the new kids on the block in a group that traditionally includes Super Man, Spider-Man and Batman. And though one might think the newbies will be all the rage, Billings says that many times, kids and adults will come in looking for the hero of the moment but end up reverting to old loves.
"When we sell those costumes — I do a lot of adult superheroes — it's for guys who are being goofy. Not for guys who are like, 'Captain America's awesome!'" Billings says. "And with kids, they saw 'Captain America' and so they want to come in and they're like, 'Oh, I want to be Batman!' So, those superhero movies don't do a whole lot."
Harry Potter and other old friends
The last of the Potter movies, "Harry Potter and the Deathly Hallows — Part 2" came out this summer and with it, so ended an era for many young adults. Because of nostalgia's sake, costumers believe Harry and his friends will be popular for all ages.
Other movie-driven old friends to consider: The Smurfs.
On the street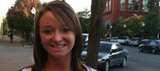 Either a member of a SWAT team or a female character from 'World of Warcraft.'
Skin or morph suits
The most "out of left field" costume in heavy request is what is alternately called either a "skin suit" or "morph suit." They're full-body suits, much like those worn by speed skaters, except the face is fully covered. They come in solid colors and patterns and work for the wearer who wants to be incognito while at the same time being eye-catching.
"It's made of some kind of polyester-y Lycra stuff — you put it on and it completely covers your body in a color," Lignell says. "It goes over your head, it's very form-fitting. You can get them with designs on them, like skeletons. We're having lots of guys ask for that."
Not sure what's right for you? There's nothing wrong with going with your non-skin-suit-covered gut.
"Once every three or four years there will be a costume that's just huge," Billings says. "It's really hard to guess and you don't really know until Nov. 1 what that's going to be."
Cheap tricks
Are you an adult or parent without much money lying around for a pre-made costume, but no sewing skills to make one yourself? Lacy Myers of Wild Man Vintage, 939 Mass., and Lindsay White of Arizona Trading Company, 736 Mass., have a bunch of inexpensive ideas just for you.
The simplest costume "to be" on the cheap for anyone? Someone from a specific decade.
"The decade look is probably the easiest route," White says.
Whether that be a greaser from the 1950s, a mad man or lady from the early 1960s, a 1970s flower child, androgenous 1980s club kid or a grunge lover from the 1990s, these costumes are easy, economical and fun.
Another fun, instant costume that also hits the nostalgia button? Kiddie favorite Mr. Rogers.
"My favorite super cheap outfit is Mr. Rogers," Myers says. "Because you can just buy one cardigan and then pick up a kids' book at a thrift store or whatever and you can do that for $10, easy. It's really fun."
Not the Mr. Rogers type? No problem. Thanks to cheap accessories, it can be inexpensive to go to a party dressed as a favorite character — whether that be a name player like Michael J. Fox's iconic teen Marty McFly or just a nameless 'Mad Men' fashion plate or any other vaguely recognizable piece of pop culture. All you need are like items and the gumption.
"People have been super creative — like Marty McFly from 'Back to the Future.' You can do that pretty easily with vintage stuff. He wears an orange puffy vest and some kind of goofy jeans," Myers say. "Or just buy a crazy piece of acid-wash and an old band T-shirt, crimp your hair. Or a band — women have gone as Heart before, which is so cute. It's really adorable."
But the best and cheapest costumes and accessories are the ones you'll keep in your closet, says Myers.
"The easiest way to do it on a budget it so buy things that you might be able to wear again, later in the year. Guys can be a lumberjack and buy a nice flannel shirt and actually wear it later," Myers says. "It's dressing things up for Halloween and dressing them down for the rest of the year."
And remember, if you are scouring vintage racks for your costume, you'll need to put on your thinking cap if you want to save money and look cool all at the same time.
"We usually get a lot of good things in here for people to work with — it separates yourself from everybody else out there," White says. "It's not something that you buy off the rack, you've got to put some creativity into it when you go this route. I like that, I like to see what people put together."
Copyright 2018 The Lawrence Journal-World. All rights reserved. This material may not be published, broadcast, rewritten or redistributed. We strive to uphold our values for every story published.