Lecompton — The 324 cups separated into 36 stacks lined up at six stations added up to the chance of a lifetime for students Thursday at Lecompton Elementary School.
The payoff: setting a world record, with a little learning on the side.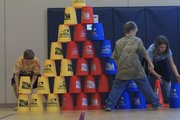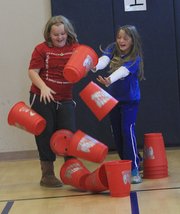 Nearly all of the school's 184 second-, third- and fourth-graders spent their gym classes stacking and unstacking plastic cups as part of an international effort to establish a new Guinness World Record for — you guessed it — Most People Sport Stacking at Multiple Locations in One Day.
The event, organized through the World Sport Stacking Association, aimed to line up more than 350,000 people to stack and unstack sets of 12 cups for at least 30 minutes at some point Thursday, which was Guinness World Records Day. Lecompton was among 82 schools in Kansas to register.
Anyone who might consider stacking cups as little more than, well, stacking cups must not have heard from teacher Jill Larson-Bradney.
Larson-Bradney, whose students have participated in WSSA Stack Up events for each of the past four years, regards stacking as a way to build coordination, ambidexterity, motor skills and pattern recognition, all while promoting teamwork and self-confidence for all kids.
"Everyone can achieve in this," said Larson-Bradney, who coaches softball at Perry-Lecompton High School. "It gives them a sense of accomplishment, which is wonderful."
Last year's students were part of the current world record: 316,736 verified stackers on a single day. The record has been eclipsed each year the Stack Up has occurred, ever since 81,252 participated in 2006.
This time around, dozens of students in Lecompton weren't about to let a record-setting opportunity pass by.
Gabrielle Cummings, a fourth-grader, shifted from station to station in the school gym, taking her turns stacking plastic cups of varying sizes. Some looked small enough to be thimbles, while others could serve as trash cans in any classroom or the principal's office.
The constant: Each station started with 12 cups, plus a timer and instructions.
From there, Gabby and her classmates went to work — adding varieties such as clapping after each stack, spinning around after another stack, or doing five jumping jacks before topping off a stack.
"It's a big deal," she said, of her anticipated record-setting performances, shared by all 18 of her fellow classmates making their way around the gym. "And it's fun. If I mess up, I can restart."
The fun even extended into the older set. While Gabby was busy stacking and unstacking 12 cups in 7.78 seconds — yes, digital timers are precise — Myra Mohr stepped into the gym intent on adding her name to the record-setting roster, and more.
Mohr works as a social worker for the district, and dropped by to show her support while stacking a few cups herself.
"This is a good motivator for the kids," Mohr said. "What they're doing makes a difference."
Copyright 2018 The Lawrence Journal-World. All rights reserved. This material may not be published, broadcast, rewritten or redistributed. We strive to uphold our values for every story published.