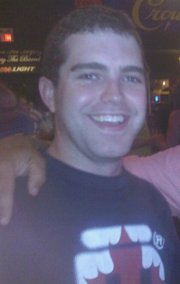 When Andrew Rodgman found out someone needed help — whether it was a place to stay or just someone to talk to — he seemed to always be there.
"If someone needed help and asked him, I never saw him turn somebody down," said Lawrence resident Brandon Condren, who had been friends with Rodgman since they were in elementary school together in Hugoton.
Now, Condren said, his family and friends are in shock.
The Kansas Highway Patrol identified Rodgman, 26, a former Kansas University student, as the man who died in a crash Wednesday afternoon near the Lawrence service center on the Kansas Turnpike about five miles east of Lawrence.
Trooper Paul Alexander said Rodgman was driving his 1999 Subaru Legacy in the eastbound lanes when he crossed the median and struck the side of a westbound semitrailer driven by a 45-year-old Carlos Ramos of Roselle, N.J. Ramos was not injured.
However, Rodgman died at the scene, which was just east of the service center before the concrete barrier median wall resumes dividing both directions of travel.
Alexander said troopers were still trying to determine the cause of the crash and why Rodgman had made a sudden and hard move to the left from the right eastbound lane before colliding with the semitrailer in the right westbound lane.
"That was one of the places where it didn't have the wall, and he ended up crossing the median and running into the semi," said Alexander, who estimated the median was 30 feet to 40 feet wide there.
No other injuries were reported in the accident, which occurred about 2 p.m. Rodgman had entered the turnpike minutes earlier at the west Lawrence exit, seven miles to the west.
Alexander said investigators didn't find anything in the vehicle or at the scene to indicate alcohol or medication played a role in the crash, but a toxicology sample was taken and will be tested, which is common in a fatality accident.
A cellphone was found outside of the car and not in Rodgman's hand, troopers said, and they also don't believe a deflated tire caused him to lose control of the car.
A coroner's spokesman said Thursday that Rodgman died of multiple traumatic injuries from the crash. It could be weeks before results from toxicology tests are available.
Rodgman was wearing a seat belt, as was Ramos, the semitrailer's driver.
Rodgman was a former Kansas University student who was last enrolled in classes during the spring 2011 semester, KU spokeswoman Jill Jess said. Condren, a Washburn University student and fellow 2003 Hugoton High School graduate, said Rodgman had been recently working as a night auditor at a Lawrence hotel.
When he was a boy, Rodgman moved with his family from Canada to southwest Kansas. His parents are doctors, and most of his family has returned to Canada. He was a hockey and KU basketball fan.
"He was someone you could talk to, you could count on for advice and someone who was dependable," Condren said. "He wasn't ever the flaky type. He was a solid, good-hearted guy."
Copyright 2018 The Lawrence Journal-World. All rights reserved. This material may not be published, broadcast, rewritten or redistributed. We strive to uphold our values for every story published.