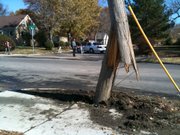 An accident south of 21st and Louisiana streets sent a 53-year-old Lawrence resident to the hospital Friday morning. About 11:30 a.m. Friday, Paula White was driving a 2002 Mitsubishi south in the 2100 block of Louisiana Avenue. The vehicle clipped the crosswalk and swerved to the right. The vehicle crashed into a utility pole, which broke in half. The hanging portion of the pole came down on the car, which caught on fire. White was taken to Lawrence Memorial Hospital with nonlife-threatening injuries. After the accident, traffic was rerouted at 23rd and Louisiana streets as police set up barricades between 23rd and Greever Terrace. Westar Energy crews were also on scene repairing the pole, and power did not appear to be affected by the accident.
White was admitted into Lawrence Memorial Hospital later in the day and was still being treated as of Friday night. A hospital representative said she was in good condition.
Copyright 2018 The Lawrence Journal-World. All rights reserved. This material may not be published, broadcast, rewritten or redistributed. We strive to uphold our values for every story published.