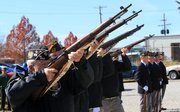 U.S. Army Maj. Brian Mehan spoke Friday about growing up in a military household and watching Veterans Day parades while sitting on his father's shoulders.
"I knew only the glory of service, but precious little about the sacrifice," he said.
Both ideas were recognized on Friday in Lawrence, as members of the Veterans of Foreign Wars, the American Legion and Disabled American Veterans groups joined with the public in a Veterans Day ceremony at the VFW post, 138 Ala.
Mehan, who is attending the U.S. Army Command and General Staff College at Fort Leavenworth and is enrolled as a master's degree student in Kansas University's Global and International Studies program, served as the speaker for the ceremony.
He said he's heard it said that today's youth were spoiled and undisciplined and lacked character. That doesn't fit with the people he sees serving in the military today, he said.
"I think about the 1.1 million men and women in uniform who are part of the next greatest generation," he said.
Members of the community joined the veterans for songs, two 21-gun salutes and the playing of taps.
Dorothy McGreevy, a Lawrence resident, said her husband served in the Army in Korea and the Philippines. He died six years ago, she said, and she's been coming to the local ceremony ever since.
"I come for him," she said. "It's an honor to all the veterans, to those that couldn't make it back and those that did."
Copyright 2018 The Lawrence Journal-World. All rights reserved. This material may not be published, broadcast, rewritten or redistributed. We strive to uphold our values for every story published.