Photo Gallery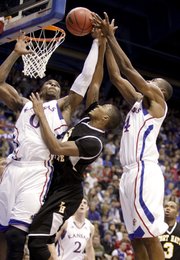 KU vs. Fort Hays State
Press Conferences & Post-Game Interviews
KU coach Bill Self
Kansas coach Bill Self talks to reporters following the Jayhawks' 101-52 exhibition victory over Fort Hays State.
Related document

KU vs. Fort Hays State box score ( .PDF )
Tuesday night, during Kansas University's 101-52 exhibition victory against Fort Hays State University, all of the Tigers' eyes were on KU junior Thomas Robinson.
"He's a heck of a player," Great Bend native Matt Simmons said. "He's great, obviously. We've known that for years. It's exciting playing against someone of that caliber, and it just made me better today, playing against him."
It also proved to be pretty painful. From start to finish, Robinson, who missed KU's preseason opener last week because he was nursing an injury, tossed his 6-foot-10, 237-pound body into any and all FHSU players who were sent his way. Sometimes the Tigers' defenders retreated. Other times, they stood their ground and wound up hitting the floor, whether because of Robinson's raw power or powerful speed.
"If you're just not used to playing against that kind of athleticism, it surprises you at the beginning," Simmons said. "But it's just basketball, when it comes down to it. You still gotta move your feet and play straight up and try not to foul."
For the most part, FHSU's players did that. In finishing with 22 points, 12 rebounds and four blocks, Robinson made just seven trips to the free-throw line in 28 minutes.
Asked if Robinson showed any ill effects of his injury, Fort Hays coach Mark Johnson was in good-enough spirits to crack a joke.
"He really didn't," Johnson said. "Maybe our guys need to get injured like that."
The match-up with Robinson was the second for FHSU's 11th-year head coach. The first came two years ago, when Robinson was a freshman. In addition to the obvious upgrades Robinson had made to his already-chiseled frame, Johnson said he thought Robinson had improved tremendously.
"He looks like a different player than when we were here two years ago," Johnson said. "His body looks even bouncier, and his confidence level, more than anything … he's just so confident now and wants the ball and expects great things. That's what makes great players. He has the confidence to be a great player."
Three Tigers finished in double figures Tuesday, led by 11 points from Wichita junior Lance Russell. Markus Yarbrough and KC Rodenburg added 10 apiece.
KU's victory came just two days after Kansas State drubbed the Tigers, 90-60, in an exhibition game in Manhattan. Attempting to compare the two teams following Tuesday's loss, FHSU junior Sean Dreiling pointed to the outcomes.
"I think they're pretty similar," Dreiling said. "I mean, the scores were similar. They're both good teams, both Big 12 teams. We just gotta get a lot better."
Added Simmons, who finished with two points, four rebounds and four fouls in 23 minutes: "They're both extremely physical and extremely athletic, and they're both going to be battling, just like every other team in the Big 12. It's gonna be a heck of a show."
Copyright 2018 The Lawrence Journal-World. All rights reserved. This material may not be published, broadcast, rewritten or redistributed. We strive to uphold our values for every story published.