A see-through parking garage and a terra cotta-inspired library sound like a good beginning to the next chapter of an expanded Lawrence Public Library.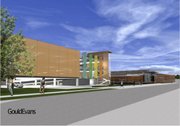 Commissioners at their Tuesday evening meeting unanimously approved "concept plans" for a $19 million expansion of the public library, including the idea of a parking garage covered by a perforated steel mesh and a library with an entirely new facade.
"I think for the money we're spending, we're getting a tremendous signature facility," said Mayor Aron Cromwell.
Tuesday's approval allows Lawrence-based Gould Evans architects to draw up more specific plans that ultimately can be put out for bid in about the next seven months.
Many of the design basics have been set by what library leaders promised voters during last November's election: 20,000 square feet of new space, a doubling of children's area space, a doubling of space for meeting rooms, space for 100 additional public computers and a parking garage for at least 250 cars.
But details about how the building and parking garage at Seventh and Vermont streets actually will look have drawn more discussion from neighbors and the city's library board.
Specifically, there are two major design elements related to the exterior. Plans call for the parking garage, which would be at least 3.5 stories tall, to have a perforated steel or aluminum exterior that would be unique in downtown. Architects said they were recommending the material because it would allow light and air to better enter the garage.
On the library itself, architects are proposing that a new exterior shell be built for the entire existing library building. The new exterior design includes large amounts of terra cotta stone and an almost random pattern of long, horizontal windows. Architects said their studies found that new exterior walls were the best way to improve the energy efficiency of the approximately 40-year-old building.
"We found that the energy loads of the building can be greatly reduced if we provide a new skin for the building," said Jane Huesemann, an architect with Gould Evans.

Commissioners approved the design on a 5-0 vote, but Commissioner Mike Amyx did ask several questions about the choice of the exterior materials. Amyx said he wanted more assurances from architects that the materials would hold up and had been well-tested on other projects.
"I just want to make sure that when I look at the building 25 years from now that I'm proud to say my thumbprint is on that building," Amyx said.
Huesemann said architects were confident in the materials, saying that the terra cotta was similar to brick and would provide the city with an easy-to-maintain exterior for a reasonable price.
Commissioners also briefly touched on two other issues: how large the adjacent parking garage should be and whether the library should move out of the building to an as-yet-undermined location while renovation work is under way. On both issues, commissioners agreed to decide later.
Commissioners will get more information about the cost of adding another level — or about 75 spaces — to the garage when the project goes out for bids. On the issue of temporarily moving, commissioners asked for a report from city staff on how much such a move may save in time and money on the project.
In other business, commissioners:
• Unanimously directed staff to move ahead with plans to begin a program that would allow small-scale farmers to use vacant city property for crop production.
• Unanimously approved an agreement with Kansas City-based Ripple Glass to set up at least four glass recycling bins in the community.
Copyright 2018 The Lawrence Journal-World. All rights reserved. This material may not be published, broadcast, rewritten or redistributed. We strive to uphold our values for every story published.