Photo Gallery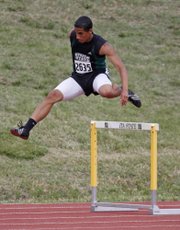 2011 6A state track and field
Wichita — Hulking shot putters from various schools grunted and heaved with all of their might, mustering a number of impressive distances at the Class 6A state track and field championships on Friday at Wichita State University's Cessna Stadium.
None could come close to topping Lawrence High junior Blake Hocking's best.
Hocking won his first state title — and the 91st individual or relay title at LHS — after putting the shot 59 feet, 4 inches, which fell shy of his personal-best 62 feet, 9 inches.
"I feel that's the magical throw," Hocking said of his school record.
After a slow start in the prelims — he scratched his first throw, then put up a modest (for his standards) 52-23⁄4 and a 56-91⁄4 — Hocking said he relaxed a bit and was dialed in by the time finals started.
"Between the finals and the prelims, I kind of got my footwork down, and that helped a lot," he said.
With a handful of competitors that could hit around 56 feet, Hocking needed more distance to feel comfortable. He put the shot 58-81⁄2 on his first attempt in the finals, and then launched a 58-101⁄2 with his second — plenty to earn him the victory.
Still, he had one more throw remaining.
"You've got more," LHS coach Jack Hood encouraged Hocking before his final attempt. "The cameras are rolling, Blake. Give them what they came for."
Hocking, who had remained mostly silent during his previous five throws, let out a massive roar as he put his final shot 59-4, which drew big cheers from the sizable crowd gathered around the pit.
"First and foremost, my goal was to win," Hocking said. "And second, I had hoped to P.R. (personal record) … I had been training to, but a win is a win, and I'm happy with it."
Hocking will compete in the discus throw at 11:30 a.m. today. He said he feels considerably less pressure seeded ninth (140-2).
Also competing Friday for the Lions was TaMiya Green, who took ninth in the 300 hurdles (48.27) and 14th in the 100 hurdles (16.68).
Green also anchored LHS's 4x400 relay team (with Alexis Scheibler, Emily Davidson, and Kelsey Broadwell), which finished 13th at 4:18.37.
Ari Pelli-Nilsen took 10th in the 3,200 for LHS with a time of 9:57.11.
Scott Dunlap will lead things off for the Lions at 8 a.m. today, when he's seeded 10th in the high jump.
Copyright 2018 The Lawrence Journal-World. All rights reserved. This material may not be published, broadcast, rewritten or redistributed. We strive to uphold our values for every story published.