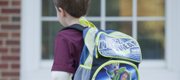 Subscribe to the email edition of First Bell and we'll deliver you the latest local education news and notes every weekday at noon.
A few notes and items regarding education in the area:
Some of Lawrence High School's past and future put on quite a show Wednesday in the nation's capital, and we'll all get a chance to watch on TV in July.
Stefan Petrovic, who will be an eighth-grader this fall at South Middle School, finished third in the National Geographic Bee in Washington, D.C.
Photo Gallery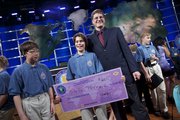 2011 National Geographic Bee
Stefan Petrovic is 13 years old, an eighth-grader-to-be at South Middle School and the third-place finisher in the National Geographic Bee — where he picked up a $10,000 college scholarship and praise from a guy who knows a thing or two about learning in the Lawrence school district: Google executive Brian McClendon, a 1982 graduate of Lawrence High School.
But check out the photo gallery: The guy in the suit and tie (OK, the guy that's not "Jeopardy!" host Alex Trebek) is Brian McClendon, a graduate of Lawrence High who now works as vice president for Google Earth and Maps. Google was a main sponsor for the bee, whose main sponsor was the National Geographic Society, and McClendon provided opening remarks for Wednesday's finals.
I managed to talk with each of them Wednesday, and both were pretty stoked about representing Lawrence and — even though Petrovic hasn't enrolled there yet — Lawrence High on the national stage, when it comes to international knowledge.
The finals are set to be shown over four days on the National Geographic Channel, June 13-16.
•••
I checked in with McClendon about a recent donation he and his wife made to establish the McClendon Computer Science Fund, to benefit computer science efforts at Lawrence High School.
McClendon, a 1982 LHS graduate, said that he'd been exchanging emails with LHS teacher Nick Wood regarding possible uses for the fund, and for making connections with faculty up at Kansas University. McClendon also is a KU grad.
When the Lawrence Schools Foundation announced the creation of the fund earlier this month, possible expenditures included buying software and acquiring robotics kits. McClendon didn't disclose any definitive plans Wednesday, but you've got to figure they can come up with something good.
Google's search engine, images and maps are pretty good, you know.
•••
One more note from McClendon, as graduation approaches this Sunday for Lions of Lawrence High and Firebirds of Free State High School, not to mention other high school seniors bracing for the proverbial real world:
Enjoy your summer, but don't let it waste away.
"Relax, but pick things to do that still give you a chance to learn," he said. "Get out of your comfort zone and try something new."
In case you're wondering, McClendon remembers spending his summers throwing copies of the Journal-World, taking short vacations to different states and playing basketball with friends.
"I still play today," he said, having been asked what he could learn from hoops. "I learned how not to injure myself."
— The First Bell mailbox is always open. Please feel free to send any feedback or ideas to me at mfagan@ljworld.com.
Copyright 2018 The Lawrence Journal-World. All rights reserved. This material may not be published, broadcast, rewritten or redistributed. We strive to uphold our values for every story published.