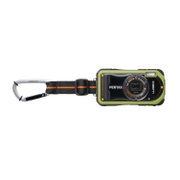 I have an unusual photographic skill that can't be taught. I can break the fall of a camera, speeding to earth, with only my feet. If I lose a grip on my gear, it is inevitable that at the last second, one of my size 11 feet will come between it and the ground to soften the impact. It's the professional photographer equivalent of an over-the-shoulder Willie Mays catch of a deep fly ball. I hear the crowd go wild, and I breath a sigh of relief for another save. And unfortunately, it happens a lot. Until recently.
I was bicycling and stopped to take a photograph. The next thing I know my compact point-and-shoot is out of my hands and on the pavement. It wasn't my fault. It was asphalt! My feet totally failed me. It's possible I was still clipped into my pedals or maybe my feet were tired. Regardless, my camera was busted. I started thinking about how often this probably happens to people, especially those without good fielding feet. Camera companions are aware of this and usually have a few models in their "butterfinger" line. You'll see terms like "-proof," "water-proof" and "crush-proof." If you're an active outdoors type or have error-prone fingers, you may want to consider a rugged compact. Here are some popular choices
• Olympus has a Tough Series and their top model is the TG-810, at a price around $400. The camera is waterproof to 33 feet and shockproof from a drop of 6 1/2 feet, it also incorporates an integrated Global Positioning System. This means you'll always know where you drop it.
• Panasonic's LUMIX DMC-FT3 is similar and was named best rugged compact camera for 2011 by an independent journalist organization. It's waterproof to 40 feet and like the Olympus has 1920x1080 high-definition video resolution. It includes a compass, altimeter and barometer.
• Backpacker Magazine gave two thumbs up to the Pentax Optio W90 in their 2011 spring guide. The camera kit includes a woven web fabric strap complete with a carabiner to attach the camera to a backpack. It's not quite as waterproof or shockproof as the two models above, but is cheaper by $100 and has an inventive Digital Microscope mode with LED lighting to capture small subjects. And you can get it in Pistachio Green.
• Canon's popular Powershot D10 provided some of the best image quality in a waterproof camera group test by dpreview.com. It was cited as the best overall performer and easiest to use. It costs around $300.
All of these cameras should deliver good quality photographs, but first and foremost they are designed to withstand rough treatment. For that reason they tend to be more expensive and may lack features and image quality of other compact cameras. But if you're prone to clumsiness, one of these cameras may be a way to put your best foot forward.
Copyright 2018 The Lawrence Journal-World. All rights reserved. This material may not be published, broadcast, rewritten or redistributed. We strive to uphold our values for every story published.